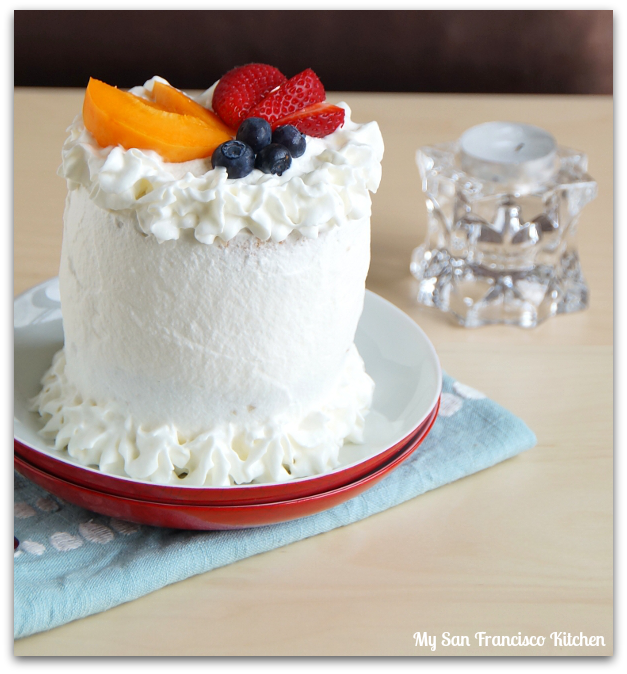 Mini Angel Food Fruit Cake
Prep time: 2 hours
Cook time: 20 mins
Total time: 2 hours 20 mins
1½ cups egg whites (~10 eggs)
½ cup confectioners' sugar
½ cup all-purpose flour (cake flour works best)
¾ tsp cream of tartar
¾ tsp vanilla extract
Pinch of salt
⅓ cup granulated sugar
Pour egg whites from carton to measuring cup, and add to mixer bowl (or separate eggs and save yolks for later use). Let stand at room temperature for 30 minutes.
Preheat oven to 350 degrees F.
Blend confectioners' sugar and flour together with a whisk.
Add cream of tartar, vanilla and salt to egg whites and beat on high speed (8 on KitchenAid with flat paddle).
Add sugar a little at a time while beating until sugar is dissolved.
Once stiff peaks form, fold in flour mixture ¼ cup at a time (lowest speed on KitchenAid mixer).
Gently spoon into two ungreased 4-inch ramekins.
Bake for 15-20 minutes, until tops are golden brown and bounce back when you touch them with your finger like a sponge.
Remove from the oven and cool 1 hour before removing.
Use a knife to loosen the cakes from the ramekins.
Slice each cake in half to get four pieces.
Layer with whipping cream and fresh fruit.
Makes 1 4-inch angel food cake (4 layers)
Recipe by
My San Francisco Kitchen
at https://www.mysanfranciscokitchen.com/mini-angel-food-fruit-cake/