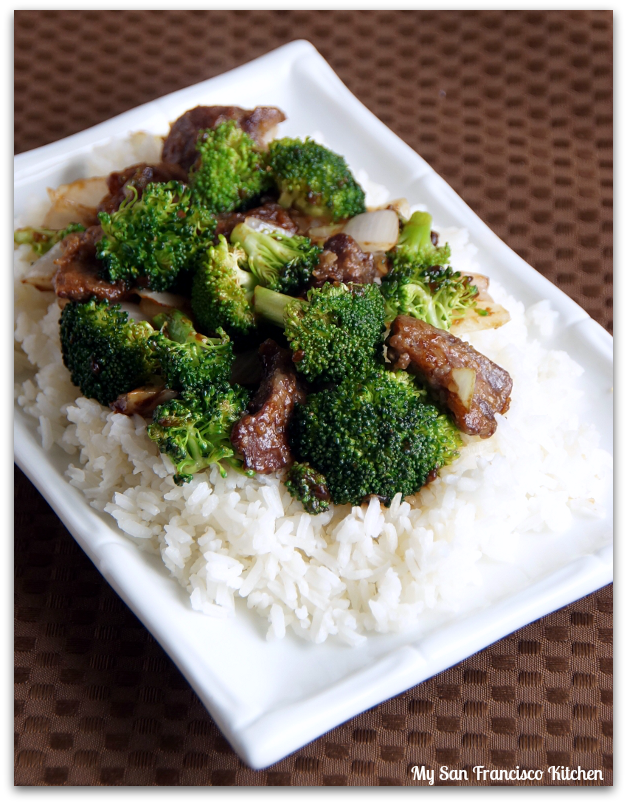 Prep time: 10 mins
Cook time: 15 mins
Total time: 25 mins
3 tbsp cornstarch
½ cup + 2 tbsp water
½ tsp garlic powder
1 steak fillet, cut into strips
2 tbsp vegetable oil
2 cups broccoli
½ onion, diced
¼ cup reduced sodium soy sauce
1 tbsp brown sugar
½ tsp ground ginger
Add 1 tbsp oil to a medium skillet and heat over medium heat.
Add the onions and simmer, stirring occasionally.
In a mixing bowl, add 2 tbsp cornstarch, garlic powder and 2 tbsp water. Mix.
Add the beef strips to the bowl and mix well.
Add to the skillet and brown on both sides, then push to the side.
Add the remaining oil to the skillet.
Add the broccoli and cook for 4 minutes.
In another bowl, mix the water, soy sauce, brown sugar, ginger and remaining cornstarch until blended.
Add the the stir-fry and mix well over 1 minute.
Serve over rice or noodles.