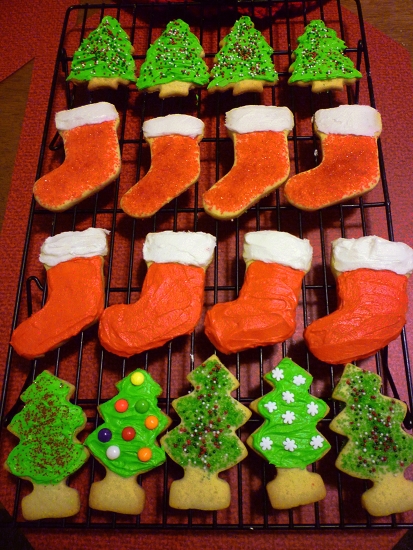 Prep time: 1 hour 30 mins
Total time: 1 hour 43 mins
Cookies
1 cup all-purpose flour
pinch of salt
6 tbsp unsalted butter
⅓ cup granulated sugar
1 egg
½ tsp vanilla
Frosting
1 cup confectioners' sugar
2 tbsp shortening
2½ tbsp milk
½ tsp vanilla
Food coloring
Cream butter and sugar in a standalone mixer on medium speed.
Add vanilla and egg and blend.
Add flour and salt, and use a spatula to help scrape the dough from the sides while mixing on low.
With floured hands, gather dough into a flattened ball and wrap in wax paper. Refrigerate for 1 hour.
Preheat oven to 325 ºF.
Roll chilled dough onto a floured surface with a floured rolling pin ¼ inch thick.
Cut out Christmas shapes with floured cookie cutters, and quickly transfer to a baking sheet using a spatula.
Sprinkle baking decorations on top if desired.
Bake for 13 minutes, or until surface is firm but not hard. Do not overcook or the cookies will be too hard.
Transfer to a wire cooling rack and let cool 1 hour.
Frosting
Mix confectioners' sugar, shortening, milk, and vanilla with a hand mixer on medium speed until well blended.
Separate into different bowls and add food coloring as desired.
When cookies are cool, apply frosting and other baking decorations.
Makes 18 cookies
Recipe by
My San Francisco Kitchen
at https://www.mysanfranciscokitchen.com/christmas-sugar-cookies/