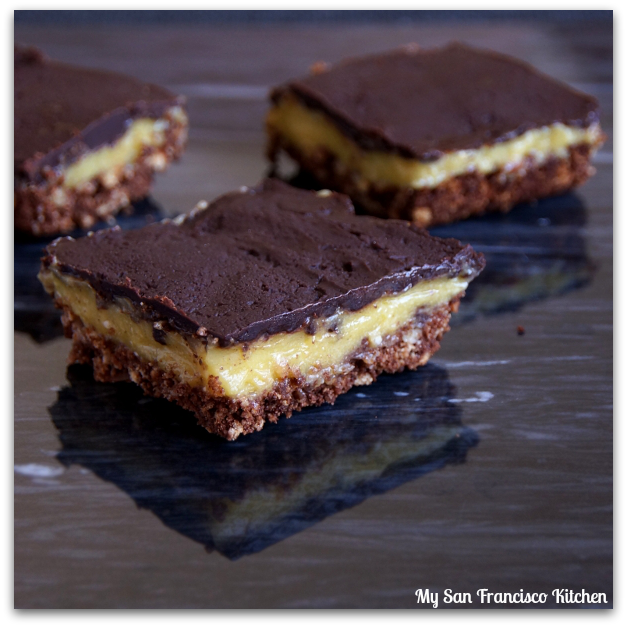 Prep time: 1 hour
Cook time: 8 mins
Total time: 1 hour 8 mins
Crust
6 tbsp unsalted butter, melted
¼ cup granulated sugar
1 tsp vanilla extract
2 cups graham cracker crumbs (~12 graham crackers)
½ cup chopped walnuts
½ cup shredded coconut
⅓ cup unsweetened cocoa powder
1 beaten egg
Filling
4 tbsp unsalted butter, at room temp
4 tbsp milk
4 tbsp custard powder or instant vanilla pudding mix
1½ cups confectioners' sugar
Topping
1 cup semi-sweet chocolate chips
1 tbsp butter
2 tbsp heavy cream
Preheat oven to 375 degrees F.
Add all crust ingredients to a stand mixer fitted with paddle attachment and mix on low speed for 5 minutes. If you do not have a stand mixer, you can mix by hand with a wooden spoon.
Press the mixture into a greased 8x8 inch baking dish and bake in the oven for 8 minutes.
Remove from the oven and set aside to cool.
Add all filling ingredients to a stand mixer fitted with whisk attachment, or to a mixing bowl and beat with an electric mixer for 4 minutes.
Spread the filling over the crust and chill in the refrigerator for 20 minutes. Note: If you want a thicker filling, you can add more instant pudding, but the texture will be different (not as firm).
In the meantime, melt the butter and chocolate in a double boiler or small saucepan on low heat.
Add the heavy cream and stir until smooth.
Spread the chocolate quickly over the filling, and chill for at least 30 minutes before serving.
Makes 9 large squares, or 16 smaller squares
Recipe by
My San Francisco Kitchen
at https://www.mysanfranciscokitchen.com/nanaimo-bars/