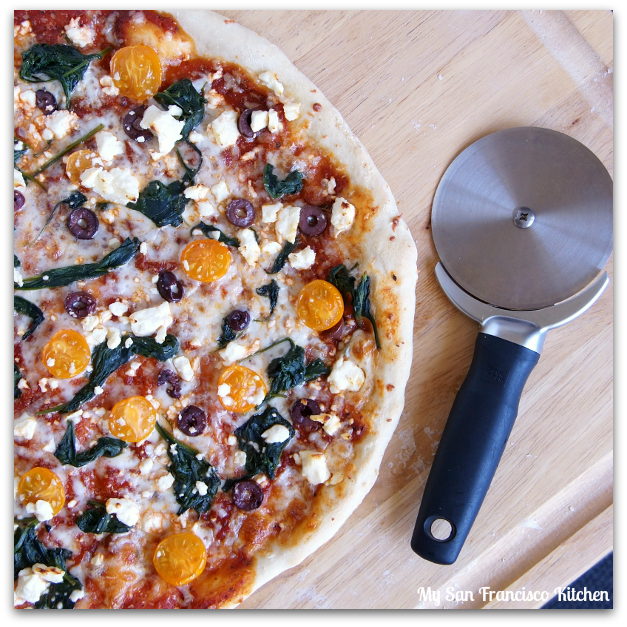 Prep time: 2 hours 30 mins
Cook time: 20 mins
Total time: 2 hours 50 mins
½ cup luke warm water
1 tsp yeast
½ tsp sugar
½ tsp salt
2 tbsp olive oil
1¼ cups all-purpose flour (more as needed)
1 cup pizza sauce
1 cup shredded mozzarella cheese
12 cherry tomatoes, halved
¾ cup cooked spinach
⅔ cup feta cheese
¼ cup sliced olives
Add water, yeast and sugar to a bowl and let stand 7 minutes to activate the yeast.
Add salt, olive oil, and half of the flour. Stir.
Add the remaining flour a little at a time while stirring. Dough should not be very sticky - add more flour until it is elastic and does not stick a lot to your hands.
Knead for 10 minutes.
Let rest for 2 hours, covered.
Preheat oven to 435 degrees F.
Roll out to desired thickness, then transfer to a greased pizza pan.
Spread the pizza sauce over the crust, then top with remaining ingredients.
Bake for 15-20 minutes, until cheese just begins to slightly brown (for a crispier crust).
Cool 3 minutes before transferring to a cutting board and serving.
Makes one 16 inch pizza
Recipe by
My San Francisco Kitchen
at https://www.mysanfranciscokitchen.com/greek-pizza/