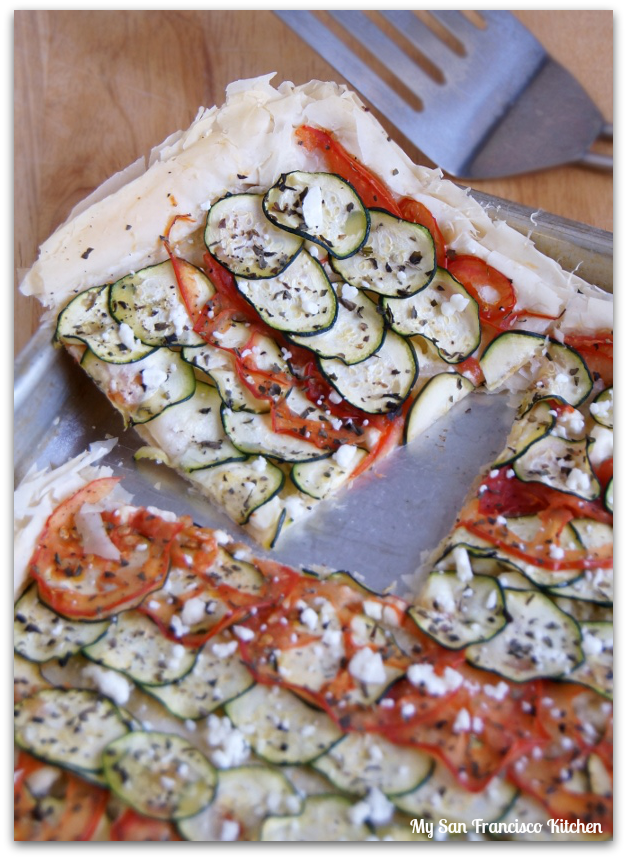 Prep time: 15 mins
Cook time: 25 mins
Total time: 40 mins
10 sheets of phyllo dough
1 large zucchini
2 tomatoes
¾ cup crumbled feta cheese
⅓ cup shredded Parmesan cheese
1 tbsp dried basil
Olive oil
Preheat oven to 350 degrees F.
Thinly slice the zucchini and tomatoes with a mandolin slicer ⅛ inch thick (or as thin as you can with a knife!).
Place 1 sheet of phyllo dough on a greased baking sheet, letting the edges hang over the sides.
Brush olive oil over the dough and top with another. Repeat, sprinkling Parmesan cheese every 2 layers.
Tuck the edges underneath on all sides.
Sprinkle Parmesan cheese and feta cheese over the very top layer of phyllo dough, then layer zucchini and tomatoes on top.
Brush with olive oil on the vegetables and edges of the tart and sprinkle with dried basil.
Bake for 25 minutes, until edges are golden brown.