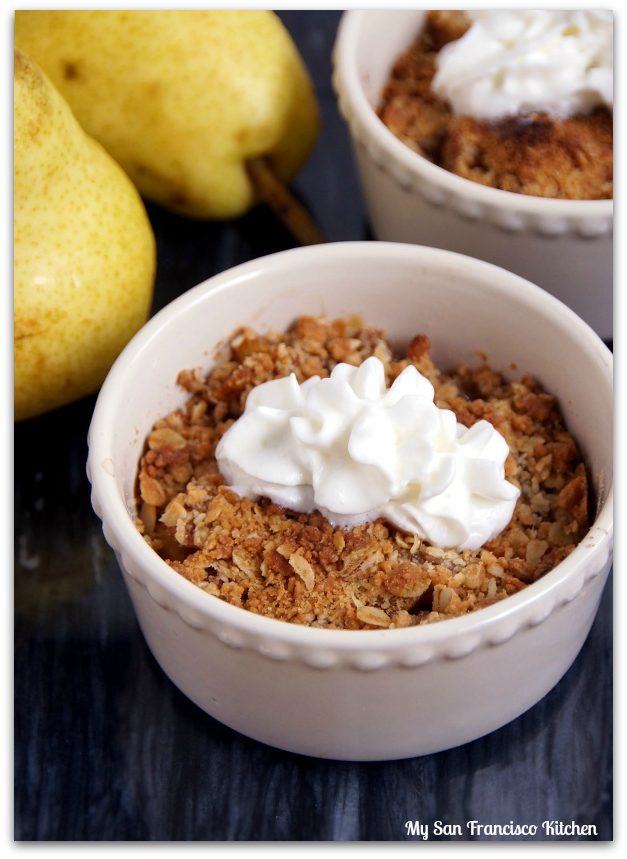 Prep time: 20 mins
Cook time: 20 mins
Total time: 40 mins
1 ripe pear
1 tbsp cinnamon
½ tbsp cornstarch
½ tsp lemon juice
1 tbsp chilled butter
2 tbsp brown sugar
3 tbsp all-purpose flour
¼ cup oats
2 tbsp chopped walnuts
Preheat oven to 375 degrees F.
Core and dice the pair, then add to a mixing bowl.
Add cinnamon and cornstarch to the pears and mix well. Set aside.
In a separate bowl, add the remaining ingredients except the walnuts.
Use a fork or pastry blender to cut the butter into the dry ingredients until it becomes crumbly.
Add the chopped walnuts and mix well.
Divide the pear mixture into two 4-inch ramekins, then top with the crust.
Bake for 15-20 minutes, until the crust is golden brown.
Makes 2 4-inch ramekins