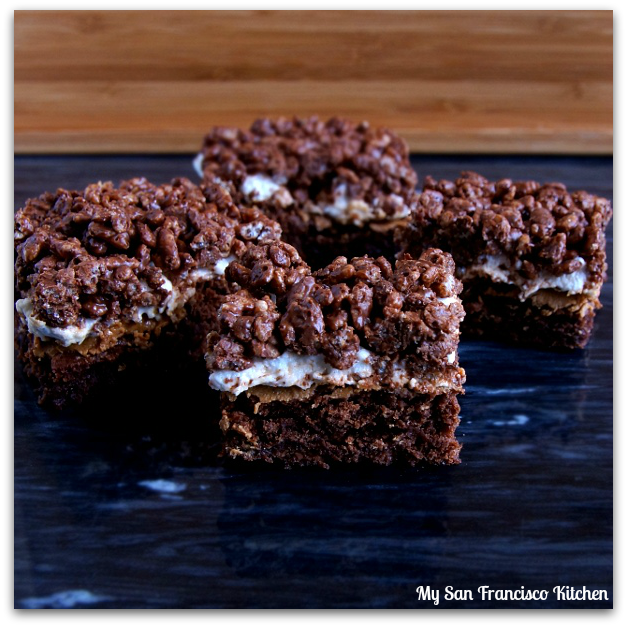 Prep time: 1 hour
Cook time: 25 mins
Total time: 1 hour 25 mins
1 batch brownies (boxed or my fudge brownies recipe!)
1 cup mini marshmallows
2 tbsp butter
⅔ cup semi-sweet chocolate chips
1¼ cups creamy peanut butter, divided
1½ cups rice cereal
Bake brownies in a greased 9x13-inch pan for 20-25 minutes.
Remove from oven and cool for 15 minutes.
Microwave ½ cup + 2 tbsp peanut butter in a small bowl, then evenly spread over the brownies in the pan.
Add mini marshmallows to top of the peanut butter layer (can also add peanut butter cups if desired!).
Add butter, chocolate chips and remaining peanut butter to a small sauce pan over low heat and melt. Stir frequently.
Once the peanut butter mixture is completely melted, add rice cereal and stir through.
Transfer rice cereal mixture over the peanut butter layer on the brownies and press down firmly using wax paper.
Refrigerate for 30 minutes before cutting.
Makes 12 bars
Recipe by
My San Francisco Kitchen
at https://www.mysanfranciscokitchen.com/crack-brownies/