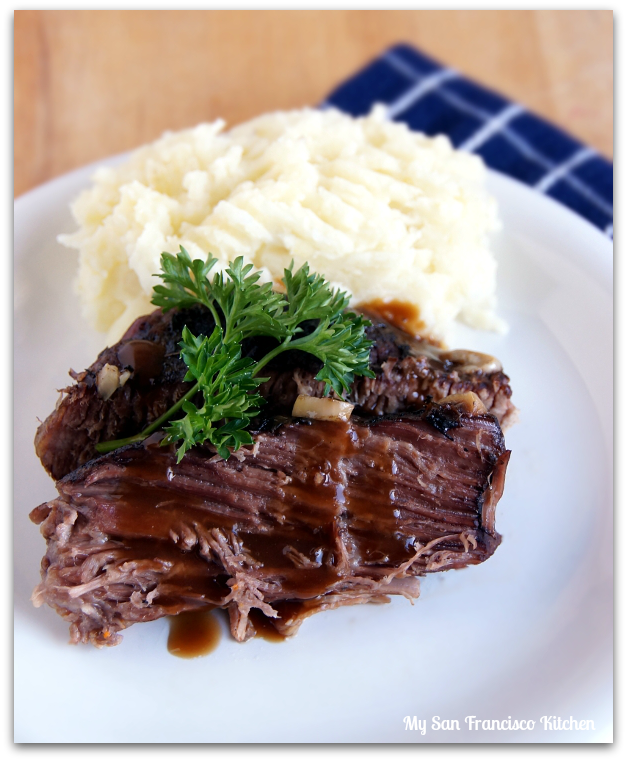 Prep time: 15 mins
Cook time: 6 hours
Total time: 6 hours 15 mins
1 chuck roast (~3 lb)
½ onion
1 packet classic gravy mix (sub 1 cup beef broth)
½ cup water
¼ cup red wine
2 cloves garlic
½ tbsp thyme
Salt and pepper
2 carrots, peeled and chopped
In a small saucepan, prepare the gravy according the directions on the packet (skip this step if using beef broth instead).
Rub salt and pepper over the chuck roast (trimmed of excess fat), careful not to make too salty since the beef broth/gravy already has a lot of sodium.
Slice the ½ onion in half, and add both halves to the bottom of a crockpot.
Turn the crockpot on "low" and add ½ cup water.
Cover the onions completely with the roast.
Pour half of the gravy (or 1 cup beef broth) over the roast, reserving the other half for serving later.
Pour the wine over the roast, then sprinkle with thyme.
Slice the garlic cloves into small pieces and sprinkle over and around the roast.
Cover and cook for 6 hours on low. For the last 30 minutes, add the chopped carrots.
Serve with gravy and mashed potatoes.
Recipe by
My San Francisco Kitchen
at https://www.mysanfranciscokitchen.com/easy-pot-roast/