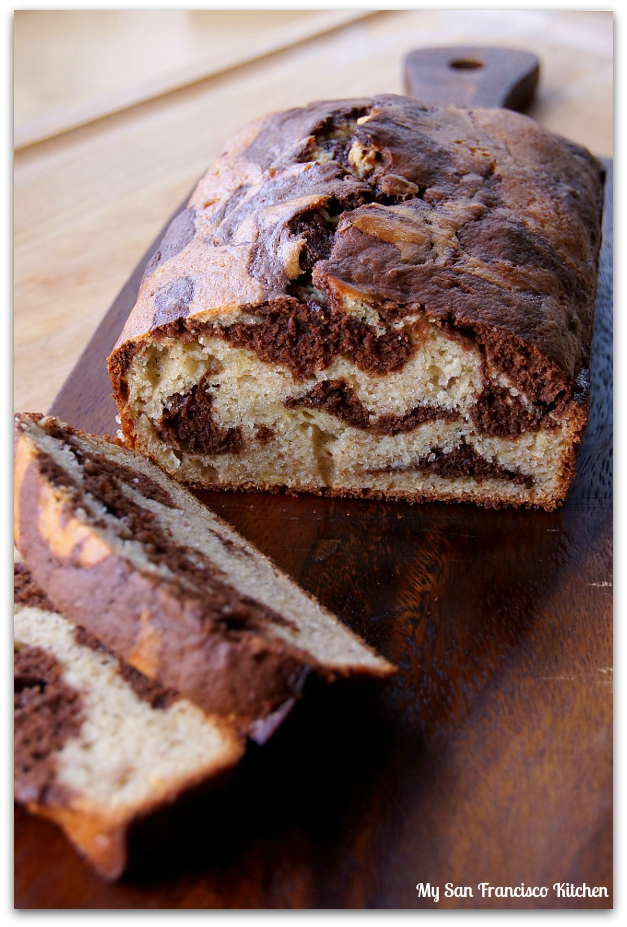 Prep time: 10 mins
Cook time: 70 mins
Total time: 1 hour 20 mins
2 cups all-purpose flour
¾ teaspoon baking soda
½ teaspoon salt
1 cup sugar
¼ cup butter, softened
2 ripe bananas
2 eggs
⅓ cup plain low-fat yogurt
½ cup semisweet chocolate chips
Preheat oven to 350°.
In a mixing bowl, whisk the flour, baking soda, and salt together.
Add sugar and butter to a large bowl and beat with a mixer at medium speed until well blended.
Add banana, eggs, and yogurt; beat until blended.
Add flour mixture and beat at low speed until just blended.
Melt chocolate chips in a microwave or in a double boiler, stirring until smooth.
Add 1 cup batter to chocolate, stirring until well combined.
Spoon chocolate batter alternately with plain batter into a greased 8½ x 4½-inch loaf pan.
Swirl batters together using a knife.
Bake for 1 hour and 10 minutes, or until a wooden pick inserted in center comes out clean.
Cool 10 minutes in pan on a wire rack, then remove from pan and cool 10 minutes before serving.
Makes 1 loaf
Recipe by
My San Francisco Kitchen
at https://www.mysanfranciscokitchen.com/marbled-banana-bread/