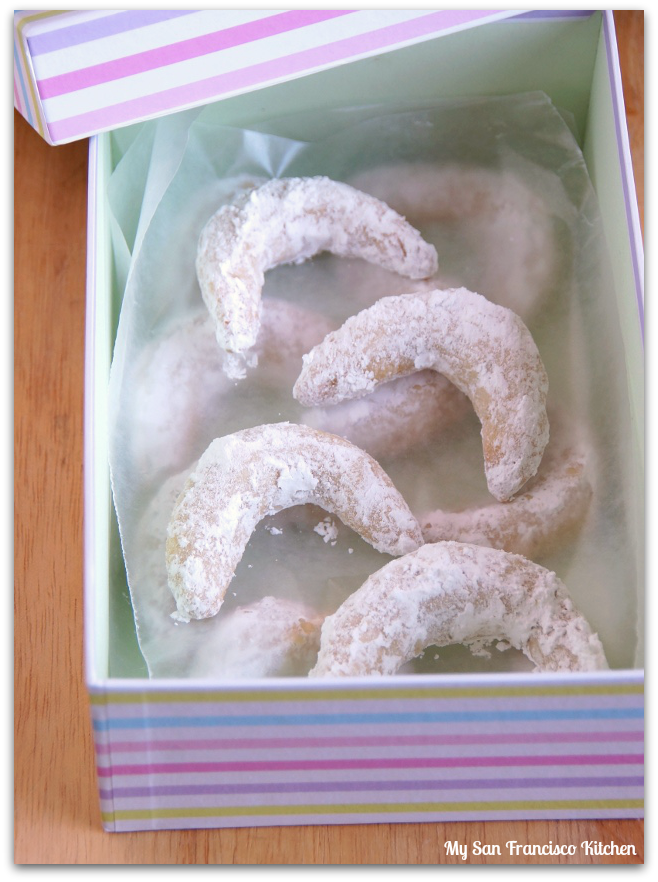 Prep time: 2 hours
Cook time: 16 mins
Total time: 2 hours 16 mins
1 cup (2 sticks) unsalted butter, room temperature
¼ tsp salt
¾ cup granulated sugar
1½ tsp almond extract
1 large egg yolk
2 cups all-purpose flour
1 cup confectioners' sugar for rolling
Cream butter, salt and sugar together in a stand mixer on medium speed with paddle attachment or with an electric mixer.
Add the almond extract and egg yolk and mix until just blended on low speed.
Add the flour a little at a time and continue to mix on low speed until all of the flour is blended and you get a nice dough.
Wrap the dough in plastic wrap and refrigerate for 1 hour.
Preheat oven to 325 degrees F.
Shape pieces of the dough into crescent shapes by rubbing the dough back and forth with your hands.
Place the shapes onto a baking sheet and bake for 16 minutes and the edges begin to turn golden.
Roll in confectioners' sugar, then cool on a wire rack.
Once cooled completely, coat the cookies in a second coat of confectioners' sugar.
Makes 48 cookies
Recipe by
My San Francisco Kitchen
at https://www.mysanfranciscokitchen.com/almond-crescent-cookies/