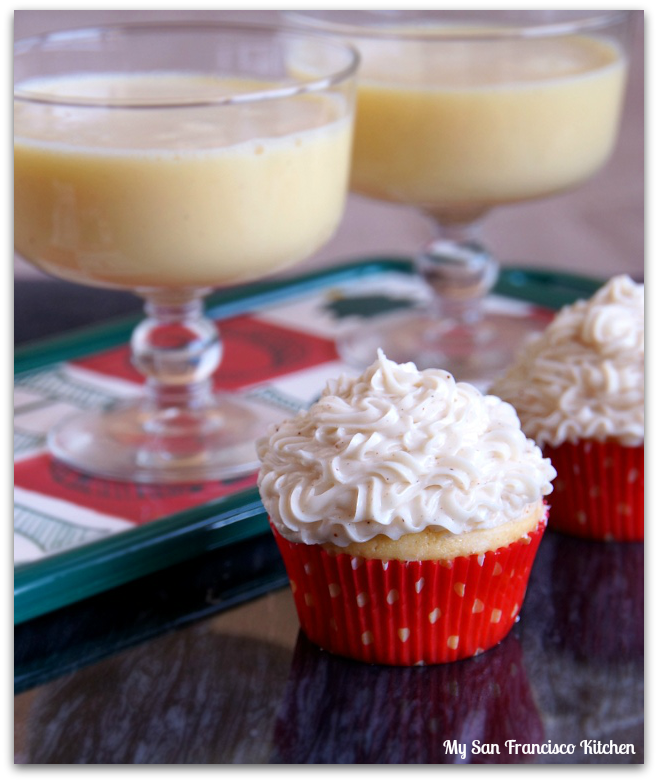 Prep time: 20 mins
Cook time: 25 mins
Total time: 45 mins
Eggnog Cupcakes
½ cup softened unsalted butter (1 stick, room temperature)
1 cup granulated white sugar
2 eggs
1 tbsp brandy
1½ cups all-purpose flour
½ tsp baking powder
¼ tsp salt
⅔ cup eggnog
Pinch of nutmeg
Frosting
¼ cup unsalted butter, softened
2 cups confectioners' sugar
1 tbsp milk (add more as needed)
½ tsp vanilla extract
Pinch of nutmeg
Preheat oven to 350 degrees F.
Line a cupcake/muffin pan with 12 liners.
Cream together the butter and sugar in a stand mixer with paddle attachment (or in a mixing bowl using an electric mixer).
Add the brandy and eggs and continue to mix on medium-low speed.
In a bowl, whisk together the flour, baking powder and salt.
Add the flour mixture a little at a time while mixing on low until all is blended, then add the eggnog a little at a time while mixing on low speed.
Once your batter is well blended, spoon into the cupcake liners so they are ⅔ full.
Bake for 25 minutes, then place on a cooling rack. Cool completely before frosting.
For the frosting, add all ingredients to a mixing bowl and beat with an electric mixer, adding more milk a tsp at a time for desired consistency.
Makes 12 cupcakes