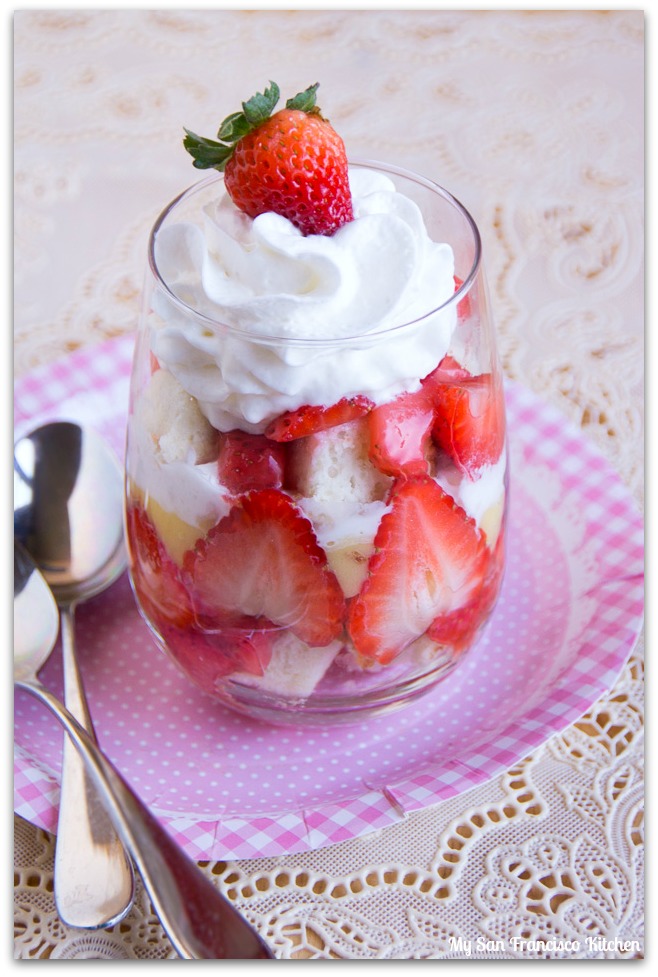 Prep time: 20 mins
Cook time: 50 mins
Total time: 1 hour 10 mins
Angel Food Cake
1½ cups egg whites (~10 eggs)
1 cup confectioners' sugar
1 cup all-purpose flour
1½ tsp cream of tartar
1½ tsp vanilla extract
¼ tsp salt
1 cup granulated sugar
Strawberry Glaze
3½ cups fresh strawberries
¼ cup sugar
2½ tsp cornstarch dissolved in 2 tbsp cold water
½ tbsp butter
1 tsp lemon juice
1 package instant vanilla pudding
Pour egg whites from carton to measuring cup, and add to mixer bowl (or separate eggs and save yolks for later use). Let stand at room temperature for 30 minutes.
Preheat oven to 350 degrees F.
Blend confectioners' sugar and flour together with a whisk.
Add cream of tartar, vanilla and salt to egg whites and beat on high speed (8 on KitchenAid with flat paddle).
Add sugar a little at a time while beating until sugar is dissolved.
Once stiff peaks form, fold in flour mixture ¼ cup at a time (lowest speed on KitchenAid mixer).
Gently spoon into an ungreased 10-in. bundt cake pan. Swirl spatula through.
Bake for 45 minutes.
In the meantime, prepare the pudding and set aside.
Hull and finely chop 2½ cups of strawberries and add a sauce pan over medium heat. Hull and slice the remaining strawberries and set aside.
Add the sugar and cornstarch and simmer for 3 minutes.
Add the lemon and butter, and remove from heat. Stir a few times while cooling.
Remove the cake from the oven and invert pan. Cool for 1 hour.
Loosen with a butterknife, then chop into 1-inch square pieces.
Layer 6 8-oz glasses with angel food cake, glaze, and pudding, then add sliced strawberries around the edges in a circle. Repeat.
Top with whipped cream if desired.
Recipe by
My San Francisco Kitchen
at https://www.mysanfranciscokitchen.com/strawberry-trifle/