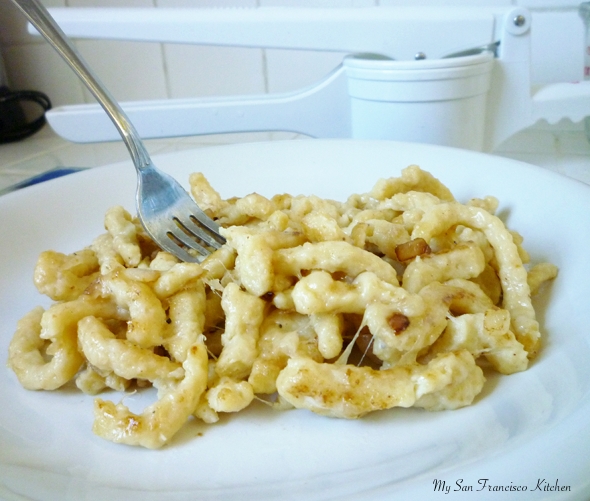 3 eggs
1 cup milk
3 cups flour
¼ tsp nutmeg
pinch salt
pinch pepper
2 qt water
1 tbsp butter
½ cup swiss cheese, shredded
Beat eggs and milk together with a fork.
Add nutmeg, salt, and pepper.
Slowly add flour a little at a time and mix with a fork.
Once all flour is added, dough should be elastic.
Let stand for 5 minutes while bringing a 3 qt pot filled with water to boil.
Add dough to spätzle maker and press through. Let the dough hang into the water (be patient, it will fall off by itself, no need to cut it off).
When noodles rise to the top, they are done. Strain well with a straining spoon and drop into a bowl.
Heat 1 tbsp butter in a large skillet.
Add chopped onions and simmer for 7 minutes.
Add spätzle and sprinkle swiss cheese on top.
Stir until all cheese is melted.