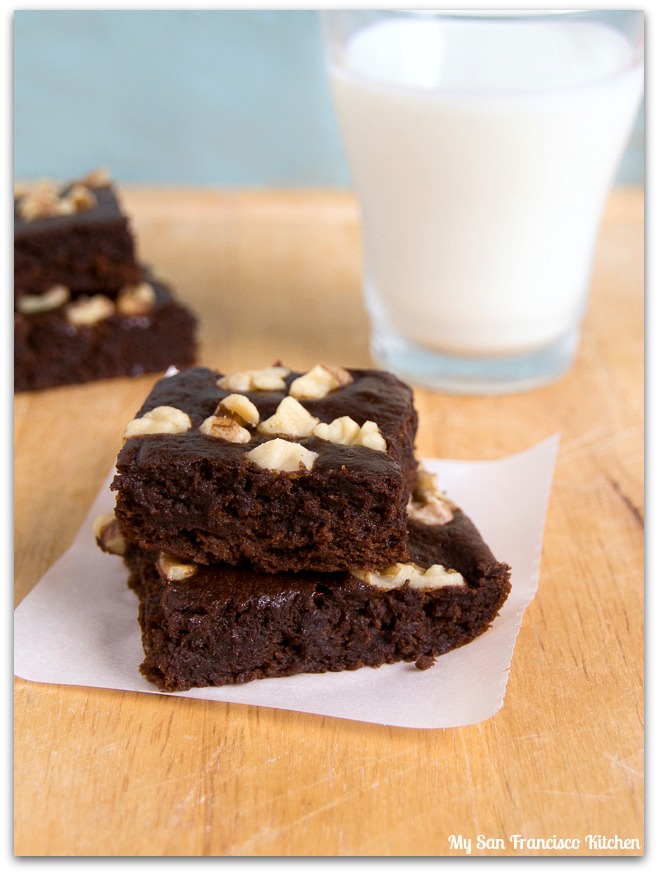 Prep time: 10 mins
Cook time: 20 mins
Total time: 30 mins
¼ cup plain yogurt
⅓ cup granulated sugar
2 tbsp butter, melted
1 ripe banana
1 large egg
½ tsp instant coffee granules
½ tsp almond extract (can also use vanilla)
¼ cup unsweetened cocoa
¼ tsp baking soda
⅛ tsp salt
½ cup all-purpose flour
Chopped walnuts for topping
Preheat oven to 350°.
Cream together butter, sugar, yogurt and banana.
Add egg and almond extract while mixing on low speed.
Add the coffee granules, cocoa powder, baking soda and salt.
Lastly, add the flour a little at a time while mixing until everything is well blended.
Transfer the batter using a spatula to a greased 8x8-inch baking dish.
Top with walnuts.
Bake for 20 minutes, until a wooden pick inserted in center comes out clean (*if you want them more fudgy, take out a little early).
Cool for at least 30 minutes before cutting.
Makes 9 brownies