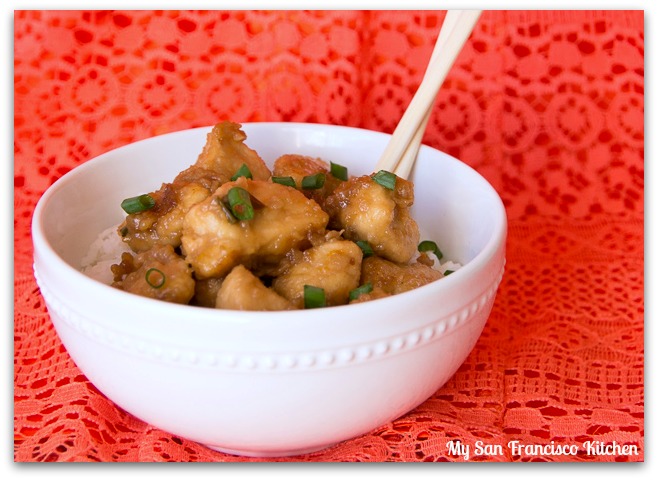 Prep time: 15 mins
Cook time: 20 mins
Total time: 35 mins
2 boneless skinless chicken breasts, cubed
1 egg
½ tsp salt
¼ tsp ground black pepper
3-4 tbsp canola oil
½ cup + 1 tbsp cornstarch
¼ cup flour
1 tbsp ground ginger
1 tsp minced garlic
½ tsp crushed hot red chili peppers
¼ cup green onion, chopped
1 tbsp rice wine vinegar
¼ cup water
Sauce
3 tbsp reduced sodium soy sauce
3 tbsp tbsp water
½ cup granulated sugar
½ cup white vinegar
1 tbsp orange zest
In a shallow bowl, whisk egg, salt, pepper together.
Add the chicken and stir to coat.
Stir ½ cup cornstarch and ¼ cup flour together in a separate bowl.
Transfer the chicken pieces dipped in egg to the cornstarch/flour mixture, stirring to coat (can also shake well in a plastic bag).
Heat oil in wok or large skillet over medium heat.
Add chicken, a few pieces at a time, and fry 3 to 4 minutes or until golden.
Remove chicken from oil and drain on paper towels.
Add all ingredients of orange sauce to a mixing bowl, stir, and set aside.
Add additional oil to the wok/skillet and add ginger and garlic.
Add crushed chile peppers, green onions, and rice wine vinegar and stir.
Add the orange sauce and bring to boil.
Add the cooked chicken, and stir.
Stir water into remaining 1 tablespoon cornstarch until smooth and add to chicken.
Heat through.
Serves 2