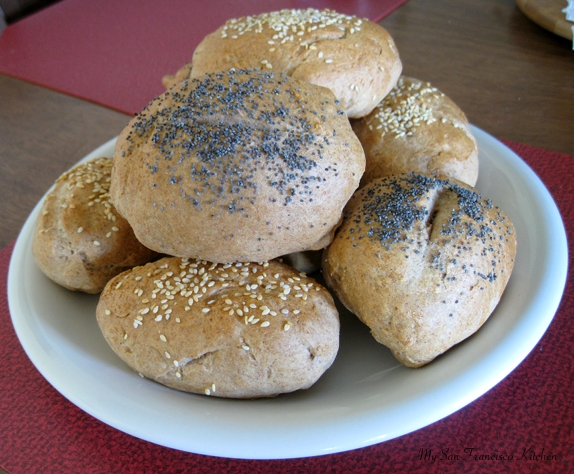 Prep time: 3 hours 30 mins
Total time: 3 hours 50 mins
2 tbsp active dry Rapid Rise yeast
1 tbsp white sugar
1 tbsp honey
2½ cups warm water
2 tbsp shortening
2 tsp salt
4 cups whole wheat flour
3 cups all-purpose flour
3 egg whites, beaten
1 egg white (for egg wash)
2 tbsp cold milk (for egg wash)
Olive oil for coating dough
Ice cubes
In a large standalone mixing bowl, dissolve yeast, honey and sugar in warm water. Let stand 10 minutes (should look creamy).
Add in shortening, salt and 3 cups of the flour.
Mix with dough attachment or fork for 2 minutes.
Add egg whites.
Add flour ¼ cup at a time, and mix until dough pulls away from bowl.
Keep on setting 2 of standalone mixer with breadhook attachment for 5-10 minutes, or turn onto a floured surface and knead by hand, adding more flour as necessary. Dough should be elastic when finished.
Lightly oil a large bowl, and place the dough coated with olive oil in the bowl.
Cover with a damp towel and let rise in a warm place until doubled in volume, about 1 hour. Punch down dough, and let rise again until doubled, about 45 minutes.
Turn dough out onto a lightly floured surface and divide into 16 equal pieces.
Form oval-shaped rolls about 3 inches long, or desired length.
Place on baking sheets, cover and let rise until doubled in volume, about 40 minutes.
Preheat oven to 425 ºF and place an empty baking pan on the bottom rack of the oven.
In a small bowl, beat egg white with the 2 tbsp of milk to make the egg wash.
Lightly brush rolls with the egg wash and sprinkle with poppy seeds or desired topping.
Place ~1 cup of ice cubes onto the hot baking sheet in the oven and immediately place the rolls in the oven.
Bake at 425 ºF for about 20 minutes or until golden brown.
Place on wire rack to cool.
Makes 16 rolls
Recipe by
My San Francisco Kitchen
at https://www.mysanfranciscokitchen.com/whole-wheat-german-brotchen/