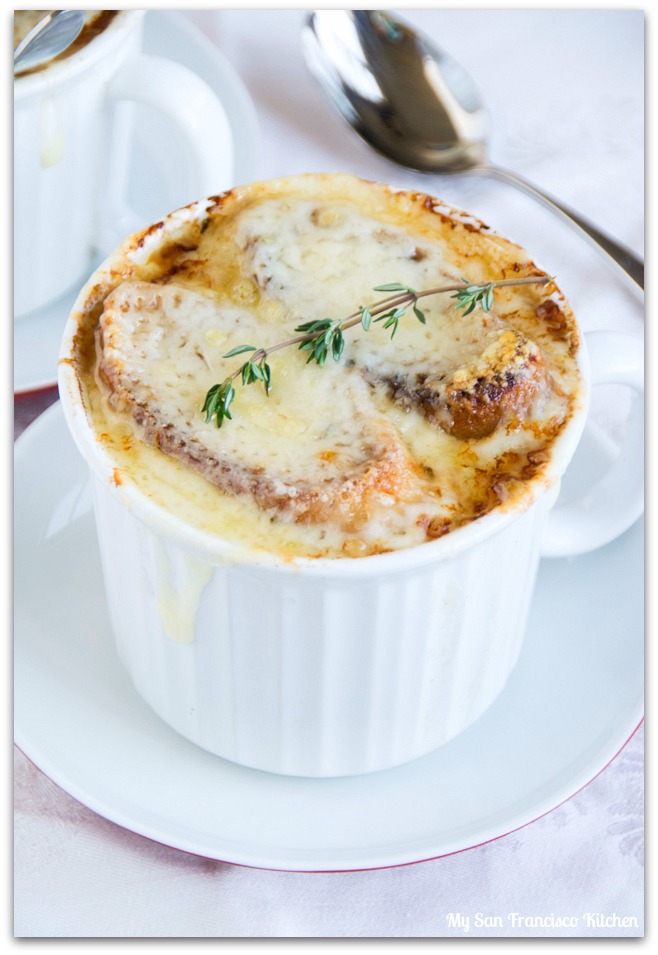 Prep time: 15 mins
Cook time: 45 mins
Total time: 1 hour
¼ cup unsalted butter
2 onions, sliced
2 garlic cloves, chopped
1 bay leaf
2 fresh thyme sprigs
Kosher salt and freshly ground black pepper
½ cup red wine
2 heaping tablespoons all-purpose flour
4 cups beef broth
1 baguette, sliced
4 slices Gruyére cheese
Melt the butter in a large pot over medium heat.
Add the onions, garlic, bay leaf, thyme, and salt and pepper and cook until the onions are soft, about 25 minutes.
Add the wine, bring to a boil, reduce the heat and simmer until the wine has evaporated and the onions are dry, about 5 minutes.
Discard the bay leaf and thyme sprigs.
Add the flour and stir. Turn the heat down to medium low and cook for 10 minutes.
Add the beef broth, bring the soup to a simmer, and cook for 10 minutes.
Season, to taste, with salt and pepper.
Preheat a broiler.
Arrange the baguette slices on a baking sheet in a single layer and bake until crispy.
Top the soup with 1-2 crispy baguette slices and a slice of cheese, then place back in the broiler until the cheese is melted.
Makes 4 servings