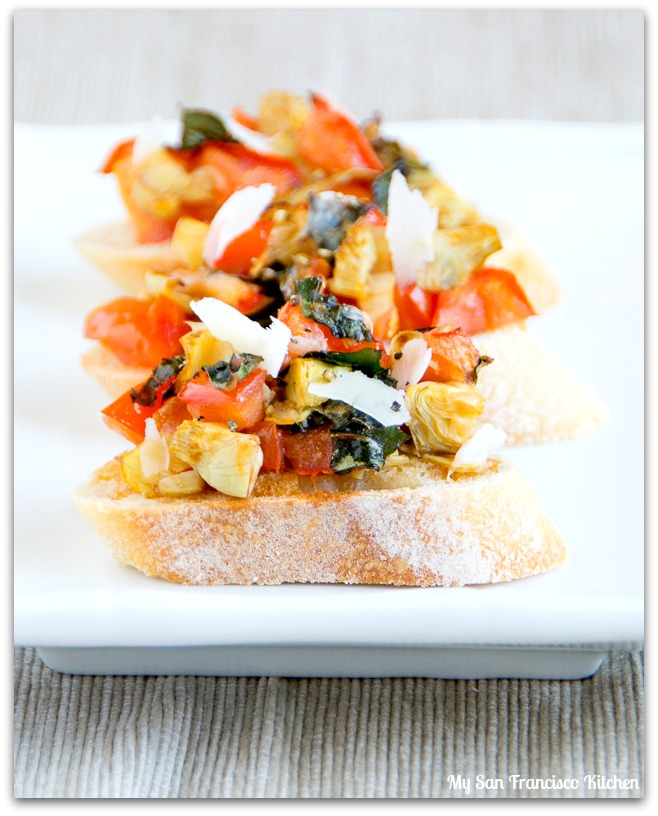 Prep time: 15 mins
Cook time: 15 mins
Total time: 30 mins
1 French or sour dough baguette, thinly sliced
3 tomatoes, diced
⅓ cup fresh basil, chopped
2 cloves garlic, minced
4 canned artichoke hearts, chopped
¼ cup thinly-grated sliced of Parmesan cheese, plus extra for topping
3 tbsp olive oil
1 tbsp balsamic vinegar
Salt and pepper to taste
Preheat the oven to 375 degrees F.
Place the sliced bread onto a baking sheet.
Add the remaining ingredients to a mixing bowl and mix together well over 1 minute. You can prepare ahead of time so the flavors become richer! Add salt and pepper to taste and mix well.
Use a tablespoon to transfer the mixture on to the baguette slices - about 2-3 tablespoons per slice of bread.
Bake for 15 minutes, until the bread is crisp.
Remove from the oven and top with addition Parmesan cheese just before serving warm.
Makes 12 slices