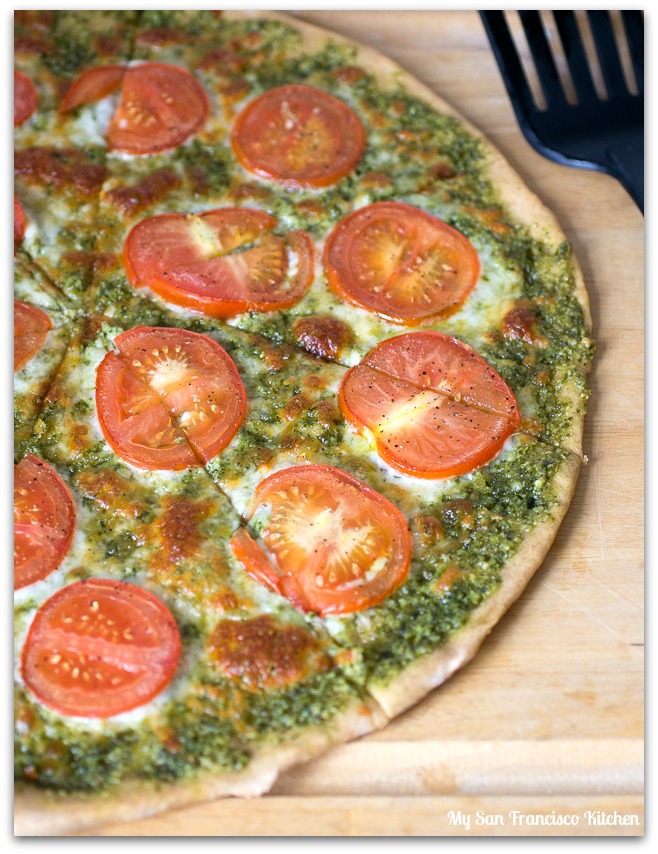 Prep time: 2 hours
Cook time: 15 mins
Total time: 2 hours 15 mins
1 Boboli Thin Crust Pizza Crust
2 cups fresh basil leaves
1 clove garlic, chopped
¼ cup pine nuts
⅓ cup Parmesan cheese, plus more for topping
⅔ cup + 2 tbsp olive oil
Salt and pepper to taste
4 roma tomatoes, sliced
1 cup shredded Mozzarella cheese
Add the yeast, sugar and water to a large bowl and stir (preparing the dough in a stand mixer with hook attachment is much easier!). Let rest 5 minutes until the yeast is foamy, then add the salt and 2 tbsp olive oil and stir.
Add the flour a little at a time, stirring it in until blended well.
Once all of the flour is added, knead the dough on a floured surface or in the stand mixer for 10 minutes.
Place the dough back into the bowl and cover. Set it in a warm place and allow the dough to rise for 2 hours.
Prepare the pesto in a food processor or blender by adding the basil, garlic, nuts, Parmesan cheese, salt, pepper and olive oil. Blend until smooth.
Once the dough has doubled in size, roll into a large circle on a floured surface.
Divide the dough in half (for thin crust pizzas) and transfer to greased pizza pans and spread the pesto sauce on top.
Add the sliced tomatoes, mozzarella cheese and Parmesan cheese on top.
Bake in the oven at 425 degrees F for 15 minutes.
Makes 2 thin crust pizzas or 1 thick crust pizza
Recipe by
My San Francisco Kitchen
at https://www.mysanfranciscokitchen.com/pesto-tomato-pizza/