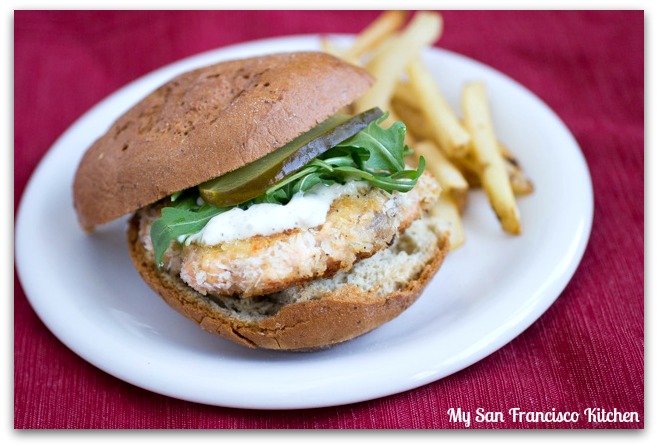 Prep time: 45 mins
Cook time: 15 mins
Total time: 1 hour
1 lb fresh boneless, skinless salmon fillet
1 tbsp dijon mustard
1 tbsp mayonaise
1 tbsp lemon juice
⅛ tsp cayenne pepper
¼ tsp black pepper
¼ tsp salt
1 cup Panko breadcrumbs
Olive oil
Line a baking sheet with parchment paper and grease by brushing olive oil over the top. Set aside.
Chop the salmon fillet into ¼ and ¾ portions. Chop the ¾ portion of the fillet into very small, bite-sized pieces using a very sharp knife and add to a large mixing bowl. Roughly chop the ¼ portion and add to a blender or food processor.
Add the mustard, mayo, lemon juice, peppers and salt to the blender and pulse a few times until you get an even paste.
Use a spatula to transfer the paste to the rest of the chopped salmon and mix until well combined.
Use your hands to form 4 patties and place onto the baking sheet. Chill for 30 minutes in the refrigerator.
Heat the olive oil in a cast iron skillet over medium heat.
Coat each salmon burger patty with Panko breadcrumbs and transfer to the skillet to cook, about 4 minutes on each side. Check the middle with a thermometer or knife to ensure they are done (you can transfer them to an oven and broil to finish baking too).
Makes 4 patties