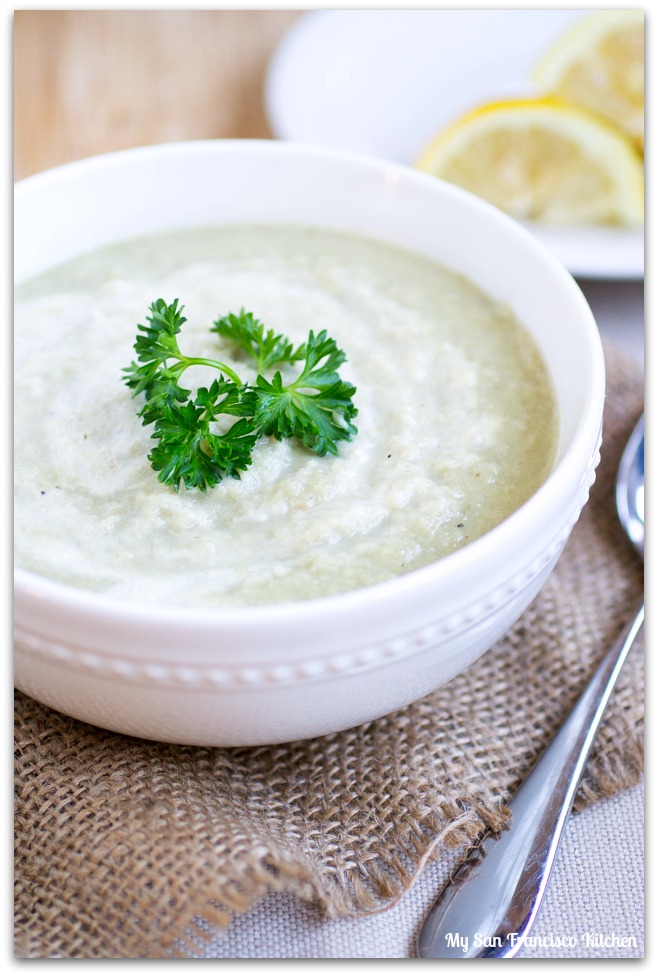 Prep time: 10 mins
Cook time: 45 mins
Total time: 55 mins
24 oz (1.5 lbs) frozen artichoke hearts, thawed
1 cup water
4 tbsp unsalted butter
4 cloves garlic, finely chopped
2 cups chicken broth
¼ tsp salt
½ tsp black pepper
¾ cup heavy cream
Freshly chopped parsley for garnish
Lemon wedges
In a large pot, melt the butter over medium heat and add the chopped garlic. Stir occasionally.
While the garlic is cooking, add the thawed artichoke hearts to a blender in 4 batches, using ¼ cup water with each (you can also use the chicken broth if it is not enough liquid). Purée each batch, then add to the pot.
Add the chicken broth, salt and pepper and bring to a boil.
Turn the heat to low and simmer for 45 minutes, stirring occasionally.
Serve warm and stir in 2 tbsp heavy cream.
Garnish with fresh parsley and squeeze a lemon wedge over the top of the soup if desired.
Makes 6 servings