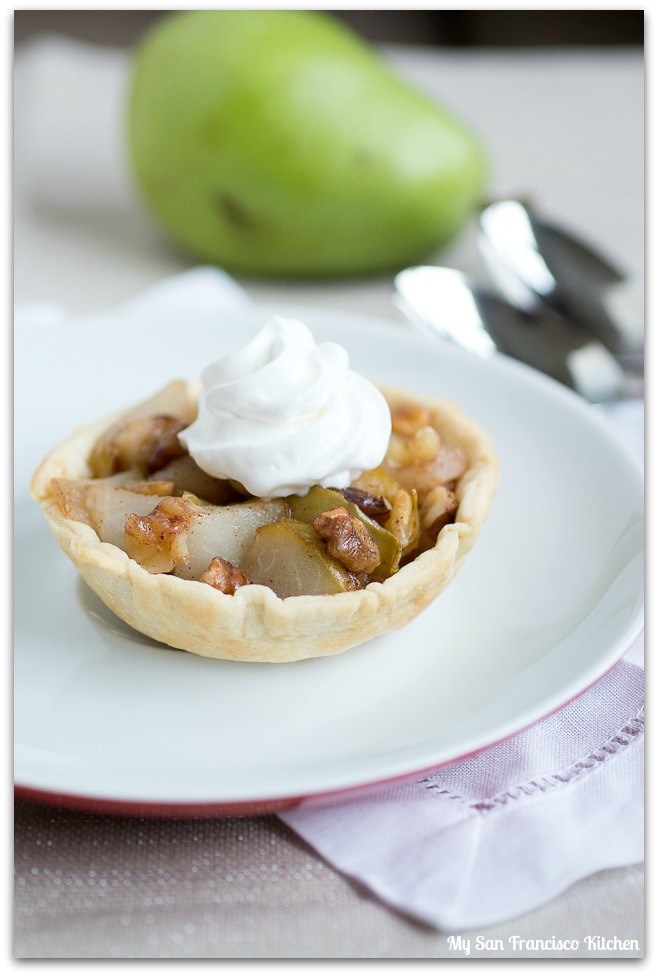 Prep time: 10 mins
Cook time: 10 mins
Total time: 20 mins
Crust
1 cup all-purpose flour
¼ tsp salt
3 tbsp unsalted butter
3 tbsp shortening
3 tbsp cold water
Filling
2 pears, cubed
2 tbsp water
1 tsp brown sugar
½ tsp cinnamon
¼ cup walnuts
Preheat your mini pie maker (or if baking in the oven, preheat the oven to 375 degrees F).
Add the filling ingredients to a small saucepan over medium heat and stir for 5-7 minutes, until pears are slightly cooked.
Add the crust ingredients to a mixing bowl except the water and cut the butter and shortening into the dry ingredients with a fork until crumbly.
Add the water and stir until evenly wet.
Press the crust into the pie maker (or an ovenproof dish if baking in an oven) and add the filling.
Bake for 10 minutes in mini pie maker, or until crust is golden in oven (about 15-20 minutes).
Makes 4 mini pies