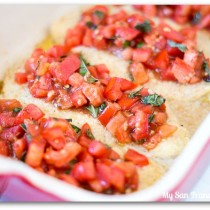 Prep time: 15 mins
Cook time: 20 mins
Total time: 35 mins
4 boneless, skinless chicken cutlets
1 egg, beaten
⅓ cup all-purpose flour
⅓ cup bread crumbs
¼ cup freshly grated Parmesan cheese
2 tbsp olive oil
1 tbsp balsamic vinegar
2 roma tomatoes, chopped
2 garlic cloves, minced
4 tbsp shredded basil
¼ tsp pepper
Salt, to taste
Preheat the oven to 375 degrees F.
Grease a 13-inch x 9-inch baking dish.
Dry off the chicken cutlets and dip the chicken in the flour, followed by the egg and bread crumbs. Shake off the excess egg before dipping in the breadcrumbs.
Place the chicken in the baking dish, sprinkle with salt, pepper and Parmesan cheese, then cover with aluminum foil.
Bake for 7 minutes, then uncover and bake for another 5 minutes.
In the meantime, prepare the bruschetta mixture by combining the olive oil, balsamic vinegar, tomatoes, garlic, basil, pepper and salt.
Top the chicken with the bruschetta mixture and place back in the oven to heat through. Do not overcook the chicken or it will be dry. Chicken should read 165 degrees F on meat thermometer.
Makes 4