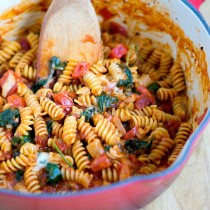 Prep time: 10 mins
Cook time: 15 mins
Total time: 25 mins
1 tbsp olive oil, plus more for drizzling
1 yellow onion, chopped
2 cloves garlic, minced
2 roma tomatoes, diced
½ tsp crushed red peppers
4 cups uncooked spinach
½ cup chopped Mozzarella cheese
2 cups water
3 cups tomato basil pasta sauce
3 cups uncooked rotini pasta
In a large skillet, heat the olive oil over medium heat.
Add the onion and cook for 5 minutes, stirring occasionally.
Add the garlic and stir well. Cook for another 2 minutes while stirring occasionally.
Add the tomatoes, crushed red peppers, water, and pasta sauce and bring to a boil.
Once boiling, add the rotini pasta and cook for package directions (usually about 8 minutes), stirring occasionally, until al dente.
Remove from heat and add the spinach and mozzarella cheese. Stir.
Serve hot.
Serves 4