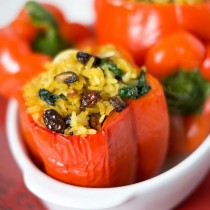 Thai Vegetarian Stuffed Peppers
Prep time: 15 mins
Cook time: 50 mins
Total time: 1 hour 5 mins
*Note: this recipe makes enough for 2 people. You can double this recipe to serve 4*
2 red bell peppers
1 tbsp olive oil
2 garlic cloves, chopped
1 shallot, thinly sliced
⅔ cup chopped white mushrooms
1 cup jasmine rice
½ cup coconut milk
1 cup yellow curry sauce
¼ cup filtered water
½ tsp crushed red peppers
1 cup uncooked spinach
⅓ cup raisins
¼ cup sliced almonds
Slice the tops of the bell peppers off and scoop out the insides.
Bring a pot of water to boil, then add the peppers. Cook for 4 minutes, then drain the water and set the peppers aside to cool.
Heat the oil in a pot over medium heat and add the garlic, shallots and mushrooms. Cook for about 7 minutes, until mushrooms have browned, stirring occasionally.
Add more oil if needed and add the rice. Stir.
Add the coconut milk, curry sauce, and water and bring to a boil.
Cover and simmer on low heat for 20 minutes, until the rice absorbs all of the liquid.
Add the spinach, raisins and almonds, stir and cover for 5 minutes.
Preheat the oven to 350 degrees F.
Stuff the peppers with the filling and bake in a shallow baking dish covered with foil for 30 minutes.
Serve the peppers with the extra rice filling.
Makes 2 stuffed peppers
Recipe by
My San Francisco Kitchen
at https://www.mysanfranciscokitchen.com/thai-vegetarian-stuffed-peppers/