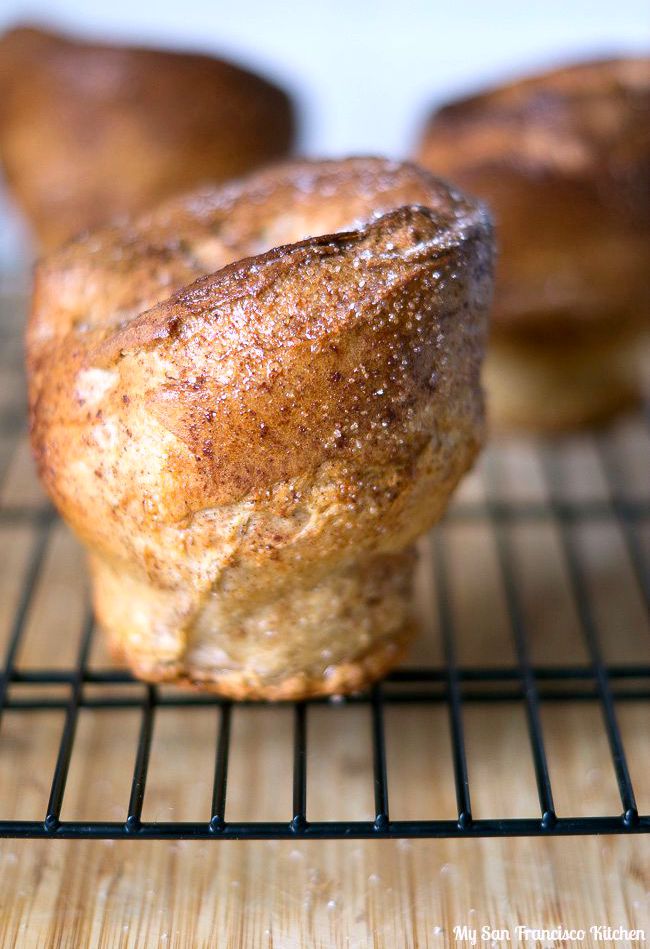 Prep time: 10 mins
Cook time: 35 mins
Total time: 45 mins
1 tbsp unsalted butter, melted, plus more for greasing
2 eggs, room temperature
1 cup milk, room temperature
1 cup all-purpose flour
1 tsp sugar, plus more for coating
½ tsp ground cinnamon, plus more for coating
¼ tsp fine salt
Preheat oven to 425 degrees F.
Place a baking sheet in the oven to heat.
Add 1 tbsp melted butter, eggs, and milk to a blender and pulse a few times.
Add sugar, cinnamon, salt and flour and blend until smooth, about 20 seconds.
Grease a popover or large muffin pan with butter and place in the oven to heat for 2 minutes.
Fill the popover/muffin pan cup halfway with batter, and place back into the oven.
Bake for 20 minutes, then reduce the heat to 350 degrees and bake for another 15 minutes, until golden brown. DO NOT OPEN OVEN DOOR.
When comfortable to touch with your fingers to remove, remove the popovers from the pan and brush with leftover butter and sprinkle with cinnamon and sugar.
Makes 3 large popovers