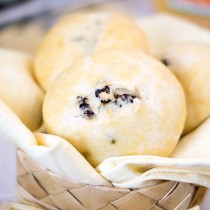 Prep time: 10 mins
Cook time: 20 mins
Total time: 30 mins
4 oz (~120g) plain Elli Quark (2/3 of one 170g container)
3 tbsp vegetable oil
3 tbsp milk
½ tsp vanilla extract
1 egg
1¾ cup flour
½ cup sugar
Pinch of salt
1½ tsp baking powder
½ cup raisins
Preheat the oven to 350 degrees F.
Separate an egg yolk and pour the egg white in a small bowl.
Stir the egg yolk in another bowl and pour half back into the egg white and beat.
Add the egg + egg white and rest of the ingredients to a mixing bowl and stir well with a wooden spoon. The dough should not stick to the bowl, but still be slightly sticky. Add more flour if needed.
Form rolls of dough on a lightly floured cutting board and place onto a baking sheet.
Make an indentation down the middle with a knife of each roll (not cutting through) and brush with remaining egg yolk.
Bake for 15-20 minutes, until golden brown.
Makes 5 rolls