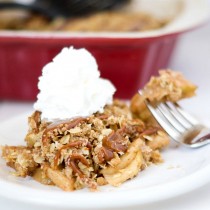 Prep time: 20 mins
Cook time: 30 mins
Total time: 50 mins
Topping
⅓ cup unsalted butter + 1 tbsp, chilled and cubed
⅔ cup all-purpose flour
½ tsp cinnamon
½ cup rolled oats
Pinch of salt
⅓ cup brown sugar
½ cup unwrapped caramel chews
Apples
4 Granny Smith apples, cored, peeled and sliced
1 tbsp lemon juice
¼ cup granulated sugar
1 tbsp cinnamon
½ tsp nutmeg
Preheat the oven to 375 degrees F.
Grease an 8x8-inch baking dish and set aside.
Add all of the topping ingredients to a large mixing bowl except for the butter and oats and whisk together.
Add ⅓ cup of butter and cut it in with a pastry cutter or fork until you have a nice crumbly mixture.
Mix in the oats and set the topping aside.
Heat a nonstick skillet on low heat and grease with the remaining 1 tbsp butter.
Once the butter is melted, add the caramel chews and melt on low heat, stirring occasionally.
Add all of the apple ingredients to another mixing bowl and mix together with a wooden spoon. If you have too much juice from the apples, add a tablespoon of flour. Taste and add more sugar if desired.
Add the apples to the greased baking pan and drizzle half of the melted caramel on top (save the other half for topping later).
Top with the crumbly crust and bake in the oven for 30 minutes, until golden brown on top.
Remove from the oven and drizzle with the remaining caramel (you may need to reheat to remelt it first).
Makes 1 8x8-inch pan