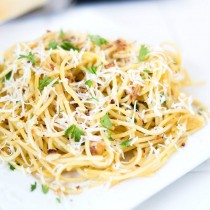 Prep time: 15 mins
Cook time: 10 mins
Total time: 25 mins
1 package (8 oz) spaghetti noodles
6 cloves garlic, minced
½ stick (4 tbsp) unsalted butter
3 tbsp olive oil
¼ tsp salt
¼ cup Parmesan cheese (plus more for topping)
2 tbsp freshly chopped parsley
Cook the noodles according to package directions al dente. Drain and set aside.
Melt the butter in a skillet over medium heat, then add the olive oil and garlic.
Cook the garlic until browned, about 5 minutes, stirring occasionally.
Add the noodles and salt, and toss together with the Parmesan cheese.
Serve warm and garnish with fresh parsley.
Serves 4