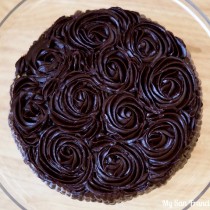 Chocolate Ganache Yellow Cake
Prep time: 3 hours
Cook time: 30 mins
Total time: 3 hours 30 mins
Ganache
½ bag (6 oz) bittersweet chocolate chips
½ bag (6 oz) semi-sweet chocolate chips
1 cup heavy cream
Yellow Cake
1 cup buttermilk
14 tbsp butter, room temperature
1¾ cup granulated sugar
2 eggs, separated
3 tsp vanilla extract
2 cups cake flour (or 1¾ cup all-purpose flour)
1 tsp salt
3 tsp baking powder
Milk chocolate frosting (or can use ganache for center filling and sides of cake)
Grease 2 9-inch round cake pans with butter and shake flour inside to coat them well. Set aside.
Preheat oven to 325 degrees F.
In a mixing bowl, whisk together the flour, salt, and baking powder. Set aside.
In another mixing bowl, cream together the butter and sugar.
Add the egg yolks and vanilla while beating on low until blended.
Slowly add the dry ingredients while beating, alternating with the buttermilk,
Now beat the egg whites until foamy, and fold into the cake batter with a spatula - do not over mix!
Bake for 30 minutes, until a toothpick comes out clean and cool.
In the meantime, bring the heavy cream to boil in a pot and pour over the chocolate. Stir until smooth. This is very important - do not allow unmelted chunks or it will affect the piping later!
Set the ganache aside to cool, about 2 hours at room temperature. Once you can scoop it with a spoon and it hold texture, it is done and ready for piping!
Once cool, frost the top of one cake with either milk chocolate frosting or ganache and top with the other cake. Frost the sides (can make it smooth or add frosting to a plastic bag with a hole cut in the corner and "draw" stems around the cake).
Spoon the ganache into a cake decorating bag fitted with Wilton D2 large star tip and beginning on the outer edge of the top of the cake start piping the ganache and swirl outwards twice around your center point to make a rose. Continue around the cake and in the center.
Makes 1 double layer 9-inch cake
Recipe by
My San Francisco Kitchen
at https://www.mysanfranciscokitchen.com/chocolate-ganache-yellow-cake/