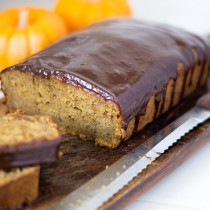 Pumpkin Banana Bread with Ganache
Prep time: 15 mins
Cook time: 1 hour 15 mins
Total time: 1 hour 30 mins
5 tbsp butter, room temperature
¾ cup sugar
2 eggs
2 ripe bananas
⅔ cup canned pumpkin
2 cups all purpose flour
1 tsp baking soda
1⁄4 tsp salt
½ tsp cinnamon
¼ tsp nutmeg
¼ tsp allspice (optional)
Chocolate Ganache
6 oz (1/2 bag) semi-sweet chocolate chips
½ cup heavy cream
Preheat oven to 300 degrees F.
In a mixing bowl, combine the flour, baking soda, salt, cinnamon, nutmeg and allspice. Set aside.
Cream together the butter and sugar in a mixing bowl until smooth, then add the eggs.
Add the banana and pumpkin and mix until just blended.
Add the dry ingredients while mixing.
Transfer the batter to a greased 9x5-inch loaf pan and bake in the oven for 1 hour 15 minutes.
Once the loaf pan is cool to touch, transfer the bread to a wire rack to finish cooling.
Once the bread is cool, prepare the ganache by boiling ½ cup of heavy cream and pouring over the chocolate chips. Stir until smooth, then pour the ganache over the bread. For easier cleanup, put a piece of paper under your bread to catch the drips.
Cool at room temperature for 2-3 hours to set.
Recipe by
My San Francisco Kitchen
at https://www.mysanfranciscokitchen.com/pumpkin-banana-bread-with-ganache/