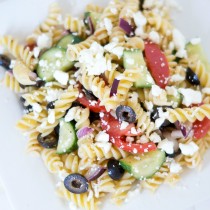 Prep time: 10 mins
Cook time: 10 mins
Total time: 20 mins
Pasta Salad
2 cups uncooked rotini noodles
1 Persian cucumber, chopped
2 tomatoes, chopped
2 tbsp finely chopped red onion
¼ cup black olives, sliced
¼ cup crumbled Feta cheese
Herb Dressing
¼ cup olive oil
2 tbsp red wine vinegar
½ tsp Dijon mustard
1 clove garlic, minced
½ tsp dried oregano
¼ tsp pepper
¼ tsp salt
Cook the rotini noodles per package directions.
Drain and add to a salad bowl, followed by cucumber, tomatoes, red onion, olives and Feta cheese.
Add the olive oil, vinegar, mustard, garlic, salt and pepper to a blender and blend until the dressing is well mixed.
Pour the dressing over the salad and toss well.
Serve warm or cold.
Serves 4