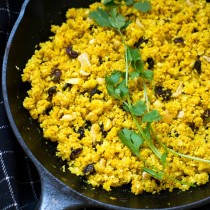 Prep time: 10 mins
Cook time: 10 mins
Total time: 20 mins
½ head cauliflower, chopped into florets
1 tbsp coconut oil
2 tsp curry powder
½ tsp turmeric
¼ tsp salt
2 tbsp raisins
2 tbsp cashews
Cilantro for garnish
Add the cauliflower florets to a food processor or blender and pulse until you get a fine, crumbly texture.
Heat the coconut oil in a skillet over medium heat.
Add the cauliflower to the skillet, scraping it out of your bowl with a spatula.
Add the curry powder, turmeric, and salt and mix with a wooden spoon. Cook for 7 minutes, stirring occasionally.
Stir in the raisins and cashews and cook for 2 minutes.
Serve warm, topped with fresh cilantro.
Makes 2 cups