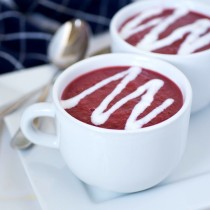 Prep time: 10 mins
Cook time: 30 mins
Total time: 40 mins
1 tbsp olive oil
1 small yellow onion, chopped
3 cups chicken broth
¼ tsp salt
¼ tsp ground black pepper
4 medium cooked beets, peeled and halved
1 medium potato, peeled and halved
1 bay leaf
1 tsp lemon juice
2 tbsp sour cream
2 tbsp milk
Heat the olive oil in a skillet and add the onions. Cook until soft, about 7 minutes.
Add the remaining ingredients, except for the sour cream and milk, and bring to a boil. Cover, lower the heat and simmer for 20 minutes until potato is soft.
Bring to room temperature and purée in a blender until smooth.
Add the sour cream and milk to a squeeze bottle and shake well. Drizzle over the soup before serving warm.
Makes 4 cups