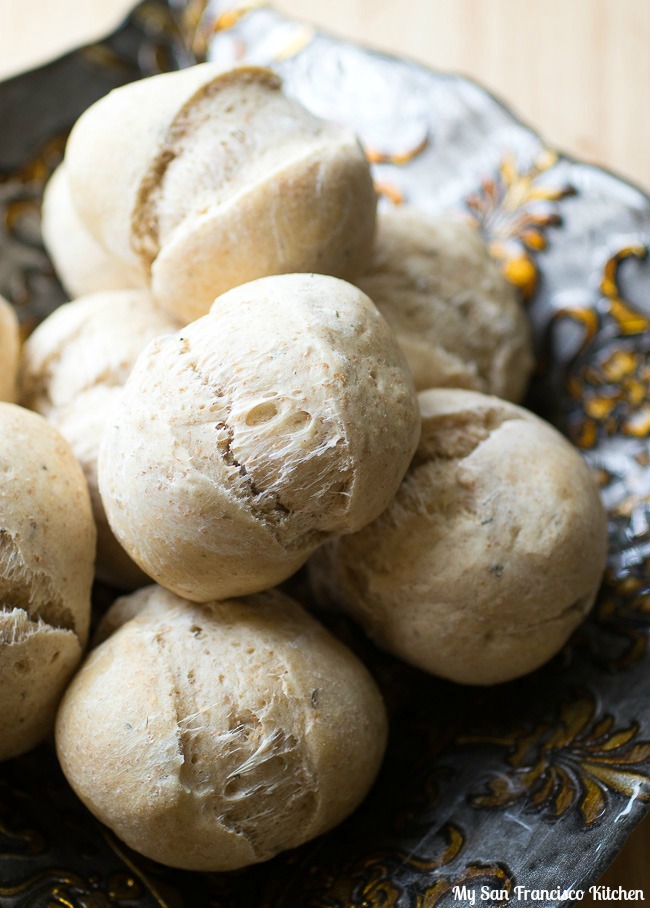 Make-Ahead Herb Dinner Rolls
Prep time: 2 hours 30 mins
Cook time: 12 mins
Total time: 2 hours 42 mins
1 tsp active yeast (1/2 packet)
2 tsp sugar
½ cup warm water
1 tsp salt
1 tsp basil
1 tsp oregano
½ tsp thyme
1 egg
1½ cups whole wheat flour
1 cups all-purpose flour (plus more for kneading)
½ cup milk, warmed
2 tbsp melted butter
Add the yeast, sugar and warm water to a mixing bowl and let stand 5 minutes.
Once poofy, add the salt, herbs, egg, and whole wheat flour. Mix with a dough hook until flour is blended in.
Add the all-purpose flour, followed by the milk and butter and continue mixing with the hook.
Add more all-purpose flour ¼ cup at a time while kneading the dough (by hands on a floured cutting board or using the dough hook in the mixer) for 10 minutes and until the dough is not sticky when you touch it. I usually end up adding another 1-2 cups of flour (careful, too much will make your dough dry!).
Cover with a towel and let rise for 1 hour.
Punch the dough down, and continue to let rise another hour.
Form 2-inch balls of dough with your hands and place on a baking sheet.
Preheat oven to 425 degrees F.
Brush the dough with olive oil and use a knife to make a slice just slightly below the surface in the center of the dough.
Bake for 12 minutes, until tops are firm and bottom is golden brown.
Allow the rolls to cool, then wrap them in aluminum foil and place in Hefty freezer bags. Freeze for up to 1 week before use, then thaw overnight and warm up for 10 minutes at 325 degrees F.
Makes 9 rolls
Recipe by
My San Francisco Kitchen
at https://www.mysanfranciscokitchen.com/make-ahead-herb-dinner-rolls/