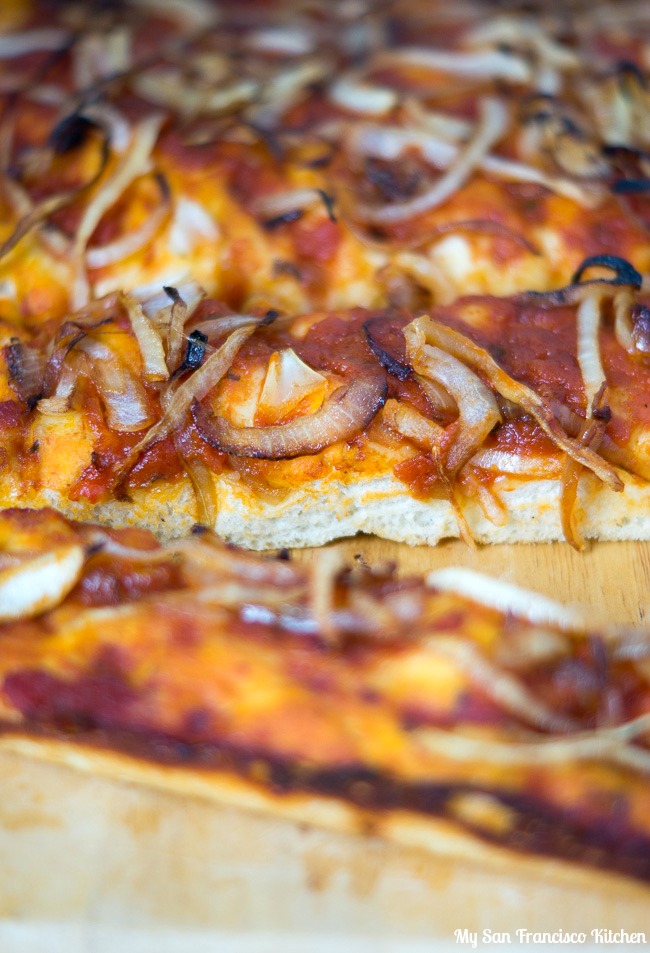 Balsamic Caramelized Onion Focaccia
Prep time: 2 hours 30 mins
Cook time: 30 mins
Total time: 3 hours
1⅓ cups warm water
½ package active dry yeast (1 and ¼ tsp)
½ tbsp sugar
½ tbsp salt
½ cup extra-virgin olive oil, divided
2½ cups all-purpose flour, plus more for kneading as needed
1 tbsp butter
½ yellow onion, thinly sliced
1 cup Bertolli Riserva Balsamic Vinegar and Caramelized Onion sauce
Add the yeast and warm water to a stand mixer bowl with hook attachment and let stand for 7 minutes (should be poofy).
Slowly mix in the sugar, salt, olive oil, and flour.
Mix for 10 minutes.
Turn dough out onto a floured surface and knead a few times.
Grease the bowl with some olive oil and place the dough inside. Cover with a towel and let rise for about 1 hour (until doubles in size) in a warm place.
Add ¼ cup olive oil to a 9x13-inch jelly roll pan.
Punch the dough down and transfer to the baking pan, spreading out the the sides.
Turn the dough over to coat the other side with olive oil, and make holes all the way through with your fingers as you spread it to the edges.
Cover the pan with a towel and let rise another hour.
Preheat the oven to 425 degrees F.
Add 1 tbsp butter to a skillet and melt over medium heat.
Add the onions and sauté for 10 minutes, until soft and slightly browned.
Top the focaccia dough with sauce and onions, then bake in the oven for 25 to 30 minutes.
Makes 1 9x13-inch loaf
Recipe by
My San Francisco Kitchen
at https://www.mysanfranciscokitchen.com/balsamic-caramelized-onion-focaccia/