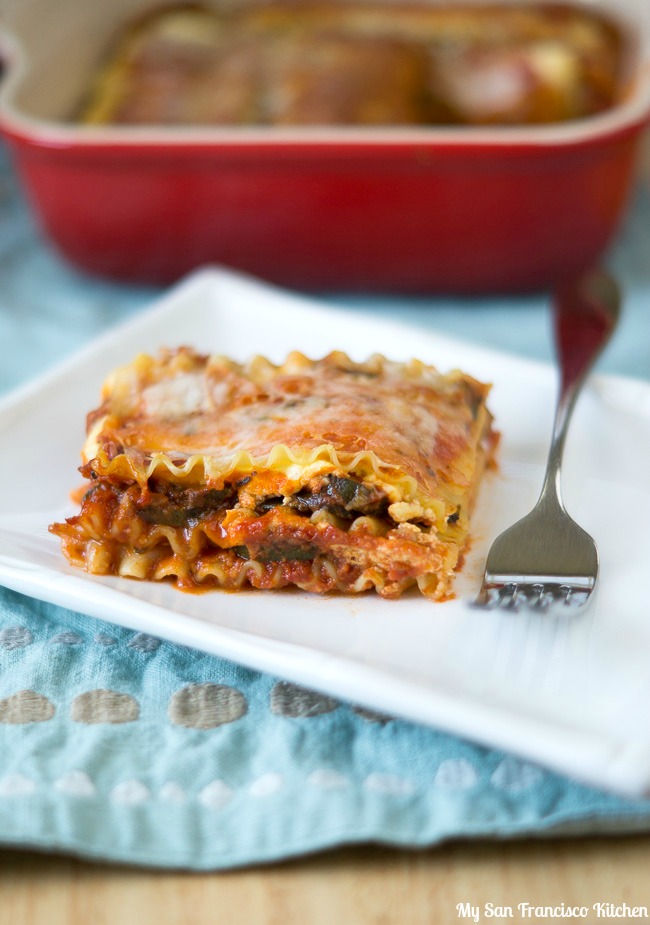 Slow-Cooker Vegetarian Lasagna
Prep time: 30 mins
Cook time: 6 hours
Total time: 6 hours 30 mins
1 tbsp olive oil
2 cloves garlic, finely chopped
1 yellow onion, chopped
5 medium zucchinis, washed and sliced
2 cups sliced mushrooms
1 12oz package frozen chopped spinach, thawed and liquid pressed out
1 14.5 oz can Italian tomatoes
1 jar Ragu (chunky tomato garlic onion flavor)
1 tbsp dried basil
½ tbsp dried oregano
½ tsp crushed red peppers
1 cup ricotta cheese
1 egg
¼ tsp nutmeg
1 ball of mozzarella cheese, shredded
1 package of oven ready lasagna noodles
Heat olive oil in a skillet over medium heat and sauté onions and garlic until soft, about 7 minutes, stirring occasionally. Set aside.
Add the Ragu (reserving a few tablespoons for baking dish later), canned tomatoes, zucchini, mushrooms, basil, oregano, and red peppers to a slow cooker and cover and set to low. Cook for 4-5 hours on low, stirring occasionally.
Preheat oven to 350 degrees F.
In a bowl, combine ¼ cup shredded mozzarella cheese, ricotta cheese, egg, and nutmeg (can also add spinach here, or in the slow cooker in the end, your choice!).
Add the few reserved tablespoons of Ragu to a 9x13-inch baking dish and spread around so noodles don't stick.
Layer the lasagna with noodles, vegetable sauce, ricotta mixture, and repeat. End with a final layer of noodles and top with the remaining mozzarella cheese.
Bake for 30 minutes.
Makes 1 9x13-inch lasagna
Recipe by
My San Francisco Kitchen
at https://www.mysanfranciscokitchen.com/slow-cooker-vegetarian-lasagna/