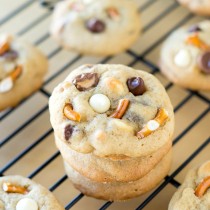 Prep time: 30 mins
Cook time: 15 mins
Total time: 45 mins
1 stick (1/2 cup) unsalted butter, room temperature
¾ cup packed light brown sugar
½ cup granulated sugar
1 and ½ cups all-purpose flour
1 tsp baking soda
½ tsp salt
1 large egg
1 tsp vanilla extract
1 cup semisweet chocolate chips
½ cup white chocolate chips
½ cup mini peanut butter cups
½ cup chopped pretzels
Preheat oven to 375 degrees F.
Cream the butter and sugar together in a stand mixer or using an electric mixer, and add the vanilla and egg.
Combine the flour, salt and baking soda in a separate bowl, and slowly add to the mixer while beating on low speed until well combined.
Chill for 15 minutes in the refrigerator.
Drop 1-inch balls of dough on parchment paper-lined cookie sheets and bake for 13-15 minutes, until just golden brown.
Makes 24 cookies