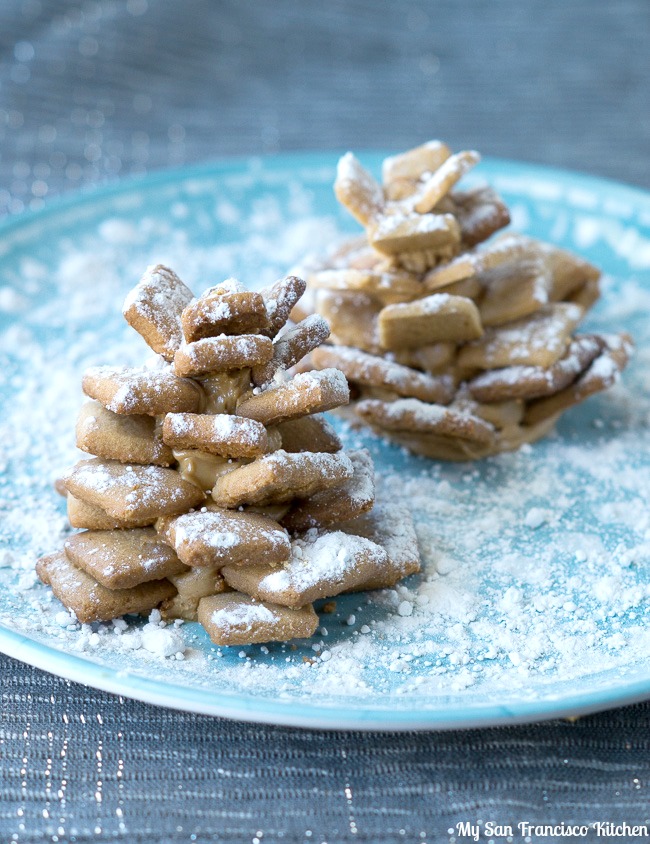 Peanut Butter Pine Cone Cookies
Prep time: 2 hours
Cook time: 12 mins
Total time: 2 hours 12 mins
Peanut Butter Cookies
¾ cup butter, room temperature
¾ cup granulated sugar
¾ cup firmly packed brown sugar
1 cup SKIPPY® Natural Creamy Peanut Butter Spread
2 eggs
1 tsp vanilla extract
2½ cups all-purpose flour
1 tsp baking powder
1 tsp baking soda
Base
1 cup peanut butter
1 cup powdered sugar, plus extra for garnish
7 thick pretzel sticks
Cream together the butter and sugars in a stand mixer or in a bowl with an electric mixer.
Add the peanut butter and continue to mix on low speed.
Add the eggs and vanilla.
In a separate bowl, whisk together the flour, baking powder, and baking soda.
Slowly add the flour mixture to the mixer while mixing on low speed.
Chill in the refrigerator for 30 minutes.
Roll dough out on a floured surface to ¼-inch thickness and cut 1-inch squares.
Preheat oven to 350 degrees F.
Bake for 12 minutes, until golden and firm.
Cool the cookies on a wire rack.
In the meantime, mix 1 cup peanut butter with 1 cup powdered sugar.
Form a handful of the mixture around 1 pretzel sick, forming a thicker base at the bottom and a thinner base at the top so it looks like a cone shape (see photo).
Use extra peanut butter to stick the cookies onto the pretzels, starting at the bottom and working your way up in a circle.
Sprinkle powdered sugar over the pine cones and keep in the refrigerator until ready to serve.
Makes 7 pine cones
Recipe by
My San Francisco Kitchen
at https://www.mysanfranciscokitchen.com/peanut-butter-pine-cone-cookies/