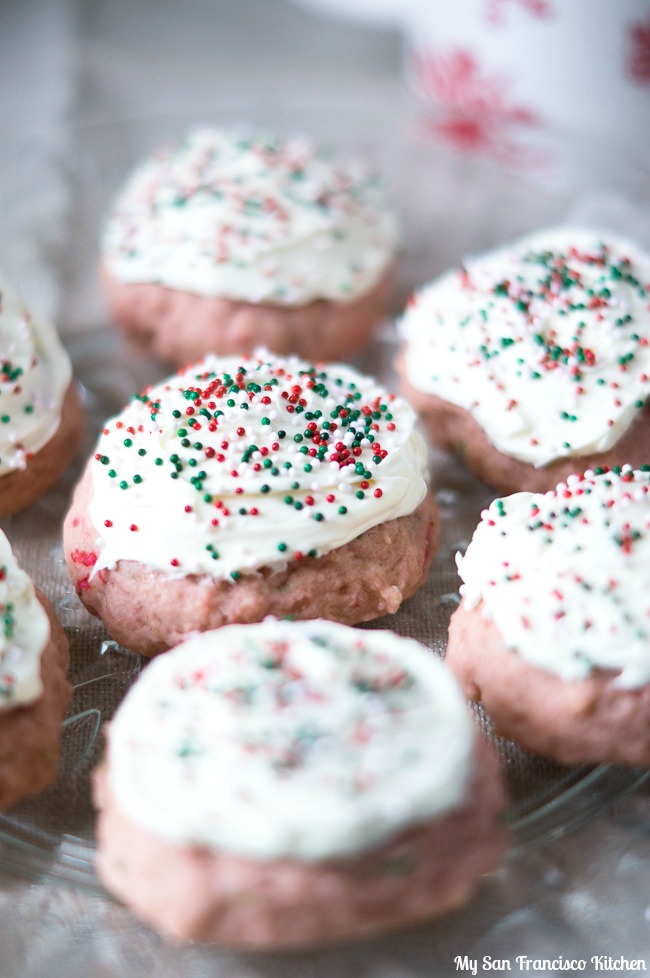 Christmas Ricotta Cookies
Prep time: 1 hour 30 mins
Cook time: 15 mins
Total time: 1 hour 45 mins
½ cup (1 stick) unsalted butter, room temperature
1 cup sugar
1 tsp lemon zest
1 cup ricotta cheese
1 egg
2 tsp vanilla extract
2 cups all-purpose flour
1 tsp baking soda
¼ tsp salt
Cream cheese frosting and sprinkles for decoration
Cream together the butter, sugar and lemon zest in a stand mixer with paddle attachment (or with an electric mixer).
Add the ricotta cheese, egg and vanilla extract while mixing on low speed.
In a separate bowl, whisk together the flour, baking soda and salt.
Slowly add the flour, alternating with some sprinkles if desired, until it is completely mixed in.
Chill the dough for one hour in the refrigerator, wrapped in a ball in plastic wrap.
Preheat the oven to 350 degrees F.
Form 1-inch balls with your hands and place on a baking sheet lined with parchment paper (or nonstick baking sheet).
Bake the cookies for 15 minutes, until firm to the touch and golden on the bottom.
Cool the cookies completely before frosting and decorating with sprinkles.
Makes 18 cookies
Recipe by
My San Francisco Kitchen
at https://www.mysanfranciscokitchen.com/christmas-ricotta-cookies/