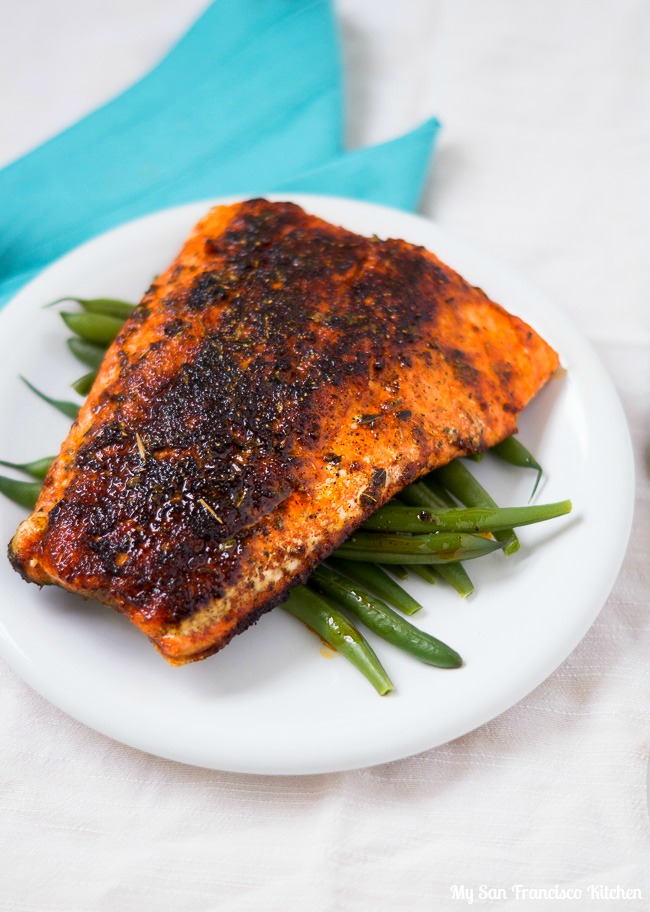 Prep time: 1 hour 15 mins
Cook time: 14 mins
Total time: 1 hour 29 mins
2 boneless salmon fillets
2 tsp cayenne pepper* (less for more mild)
1 tbsp ground paprika
¼ tsp ground black pepper
½ tsp salt
1 tsp garlic powder
¼ tsp dried oregano
¼ tsp dried basil
Fresh coarsely ground black pepper for extra flavor
¼ cup + 1 tbsp olive oil
Combine all spices in a small bowl.
Place the salmon in a dish and cover with olive oil.
Sprinkle the spices over the salmon and use a brush to coat. Do both sides if skinless.
Cover and chill for at least 1 hour.
Grind fresh black pepper over the fillets.
Heat 1 tbsp olive oil in a cast iron skillet over medium heat and place salmon skin side down.
Cook both sides for 7 minutes, until the skin flakes off easily with a fork.
Makes 2 fillets
Recipe by
My San Francisco Kitchen
at https://www.mysanfranciscokitchen.com/blackened-cajun-salmon/