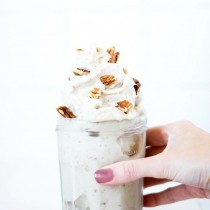 Prep time: 10 mins
Total time: 10 mins
3 bananas, peeled, chopped and frozen
¼ cup milk
1 tbsp maple syrup
¼ cup chopped pecans
Add the frozen bananas and milk to a blender and pulse until super creamy. Add more milk if needed, but not too much or the consistency will be too runny.
Add the maple syrup and 2 tbsp pecans and pulse a few times.
Pour into a dessert glass and top with remaining pecans.
Makes 2 servings