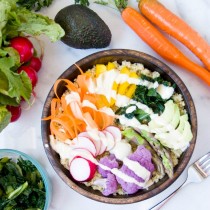 Prep time: 15 mins
Cook time: 20 mins
Total time: 35 mins
Bowl
1 cup uncooked white quinoa
2 cups filtered water
⅓ cup cooked, chopped kale
2 radishes, sliced
1 carrot, peeled into ribbons
½ cup chopped purple cauliflower
1 asparagus spear, chopped
½ avocado, sliced
½ yellow bell pepper, sliced
Dressing
⅓ cup tahini
2 tbsp lemon juice
2 tbsp olive oil
1 clove garlic, minced
1 tbsp maple syrup
Add the quinoa to 2 cups of boiling water in a pot and turn to low heat and cover.
Cook for 20 minutes, then uncover, stir and cool. Transfer to a large bowl.
Add the olive oil, garlic, tahini, lemon juice, and maple syrup to a blender or food processor and blend well.
Top the quinoa with the vegetables and drizzle tahini dressing on top.