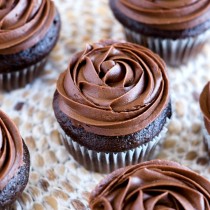 Chocolate Pudding Filled Cupcakes
Prep time: 1 hour
Cook time: 20 mins
Total time: 1 hour 20 mins
1 cup all-purpose flour
6 tbsp unsweetened cocoa powder
¾ cup + 2 tbsp granulateted sugar
1 tsp baking powder
½ tsp baking soda
½ tsp salt
1 egg
½ cup milk
¼ cup vegetable oil
1 tsp vanilla extract
½ cup boiling water
1 cup chocolate pudding
Frosting
Preheat oven to 350 degrees F.
Line a cupcake pan with 10 paper liners.
Add the dry ingredients to a stand mixer and mix with a paddle attachment (or use an electric mixer), then add the egg, milk, vegetable oil, and vanilla while mixing on low.
Add the boiling water and mix well.
Pour the batter into the cupcake liners until they are ¾ full.
Bake in the oven for 15-20 minutes, until a toothpick comes out clean when inserted in the middle.
Let the cupcakes cool completely, then use a paring knife to cut out circles on top of each cupcake. Remove the extra cake from the cutout circle, fill the holes with pudding and top with the cutout circle by placing back on top over the filling.
Frost the cupcakes as usual.
Makes 10 cupcakes
Recipe by
My San Francisco Kitchen
at https://www.mysanfranciscokitchen.com/chocolate-pudding-filled-cupcakes/