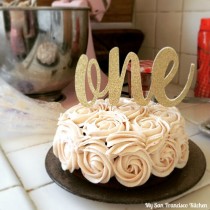 First Birthday Rosette Smash Cake
Prep time: 2 hours
Cook time: 25 mins
Total time: 2 hours 25 mins
1 cup all-purpose flour, plus 2 tbsp for cake pans
6 tbsp unsweetened cocoa powder
¾ cup granulated sugar
1 tsp baking powder
½ tsp baking soda
½ tsp salt
1 egg
½ cup milk
¼ cup vegetable oil
1 tsp vanilla extract
½ cup boiling water
½ cup strawberry preserves
Strawberry Buttercream Frosting
½ cup unsalted butter, room temperature
2 cups powdered sugar
2 tbsp strawberry preserves
1½ tsp vanilla extract
Grease two 6-inch cake pans with cooking spray or butter.
Add 1 tbsp flour to each cake pan, and rotate like a steering wheel over a sink until the flour completely coats the pan. Shake out excess flour into the sink.
Preheat oven to 350 degrees F.
Add flour, cocoa powder, sugar, baking powder, baking soda, and salt to a standalone mixer bowl fitted with paddle attachment (you can also use an electric mixer and add ingredients to a large bowl).
Mix the dry ingredients on low speed for 30 seconds.
Add eggs, milk, vegetable oil and vanilla to the flour mixture and mix on medium speed about 2 minutes.
Turn off the mixer and add the boiling water.
Beat on medium speed for 1 minute.
Use a spatula to transfer the batter evenly between the two 6-inch cake pans.
Bake for 20-25 minutes, or until a toothpick inserted in the center comes out clean.
Cool for 10 minutes, then loosen carefully with a thin spatula or knife and turn over onto a wire cooling rack.
Cool for 30 minutes before frosting.
Add the strawberry preserves between the 2 cake layers.
Mix the butter, powdered sugar, vanilla and strawberry preserves in a stand mixer until smooth and decorate using Wilton 1M tip.
Makes 1 6-inch double-layered cake
Recipe by
My San Francisco Kitchen
at https://www.mysanfranciscokitchen.com/first-birthday-rosette-smash-cake/