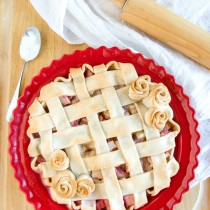 Prep time: 30 mins
Cook time: 60 mins
Total time: 1 hour 30 mins
3 store-bought pie crusts
4 cups chopped rhubarb
1¼ cup granulated sugar
¼ cup + 2 tbsp all-purpose flour
Preheat oven to 450 degrees F.
Press one of the pie crusts into a greased 9-inch pie crust.
Combine the sugar and flour in a mixing bowl with a whisk and sprinkle a few tablespoons of it over the bottom pie crust.
Top the pie crust with the chopped rhubarb, and top with the remaining sugar and flour mixture. Use a spoon to gently even it out over the entire pie (no need to mix thoroughly).
Top the pie with a 6-inch crust or lattice, and dough rosettes (see tutorial above).
Bake for 15 minutes, then turn down the oven to 350 degrees F and bake for 45 additional minutes (until pie filling is bubbling). Cover the top crust/dough rosettes with aluminum foil if browning too much before the pie is done baking.
Serve warm or chilled!
Makes 1 6-inch pie
Recipe by
My San Francisco Kitchen
at https://www.mysanfranciscokitchen.com/easy-rhubarb-pie/