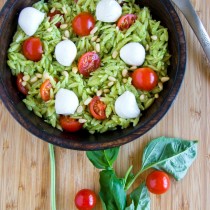 Prep time: 10 mins
Cook time: 10 mins
Total time: 20 mins
½ cup fresh basil leaves
½ cup fresh spinach leaves
⅓ cup pine nuts (plus more for topping)
2 tbsp grated Parmesan cheese
1 large garlic clove, peeled
⅓ cup olive oil
1 lb orzo pasta
1 cup cherry tomatoes, halved
1 cup fresh mozzarella balls
Salt and pepper to taste
Cook the orzo pasta according to package directions,drain and rinse with cold water and set aside.
Combine the spinach, basil, pine nuts, cheese, garlic, and olive oil in a blender or food processor.
Toss the pesto sauce together with the orzo pasta in a large bowl, then mix in the tomatoes, mozzarella cheese, pine nuts and salt and pepper to taste.
Serves 4