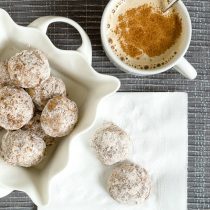 Prep time: 15 mins
Cook time: 16 mins
Total time: 31 mins
½ cup butter (1 stick), room temperature
¼ cup powdered sugar (plus more for coating)
3 tbsp chai tea latte mix
1 cup all-purpose flour
1 egg yolk
2 tsp vanilla extract
½ tsp cinnamon (plus more for coating)
¼ tsp all-spice
⅛ tsp nutmeg
¼ tsp salt
Preheat oven to 350 degrees F.
In a stand mixer, mix the butter, powdered sugar and chai tea latte mix.
Add the egg yolk, vanilla and continue to mix.
Add the spices and flour and mix until well combined.
Form 1-inch balls of dough with your hand and place on a greased baking sheet.
Bake for 16 minutes.
Let cool 5 minutes, then roll in ½ cup powdered sugar mixed with 1 tbsp cinnamon.
Makes 12 cookies