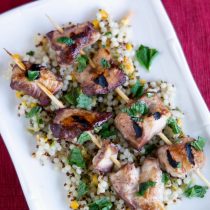 Pomegranate Chicken Skewers
Prep time: 4 hours
Cook time: 30 mins
Total time: 4 hours 30 mins
2 boneless, skinless chicken breasts
8 oz pomegranate juice
1 tbsp honey
¼ tsp. cinnamon
⅛ tsp. nutmeg
¼ tsp. salt
¼ cup chopped mint leaves
Bring the pomegranate juice to boil, then turn the heat to low and simmer uncovered for 30 minutes to thicken.
Add the pomegranate juice, honey, cinnamon and nutmeg to a small Magic Bullet cup and blend using the cross blade.
Slice the chicken breast cutlets into 1-inch pieces and place into a large bowl.
Pour the pomegranate marinade over the chicken and toss well. Cover and chill in the refrigerator for at least 4 hours.
Preheat a grill pan or indoor grill.
Arrange the chicken pieces on bamboo skewers, sprinkle with salt, and cook for 4-5 minutes (or 3 minutes on each side if using grill pan).
Sprinkle with salt and chopped mint.
Makes 4 skewers
Recipe by
My San Francisco Kitchen
at https://www.mysanfranciscokitchen.com/pomegranate-chicken-skewers/